Winter Sports Preview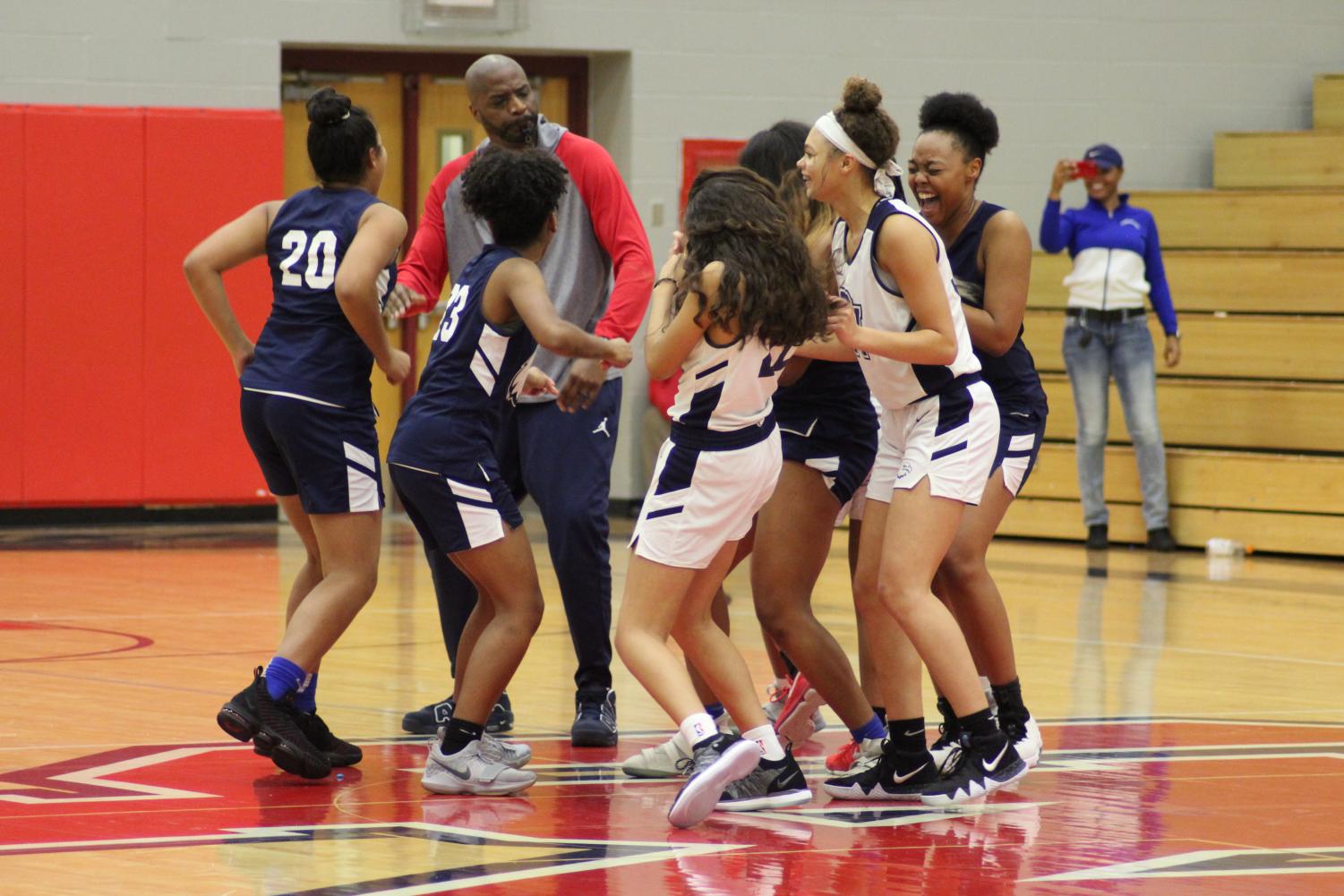 Girls Basketball
This year's Lady Eagles basketball team is looking to build off of last year's success both on and off the court. Like the boys team, the girls also place a big emphasis on team chemistry and leadership. In fact, for power forward Le'Yanna McGinnis, the best part of being on the team is "all the team dinners, us bonding, and everything like that." McGinnis also personally hopes to "be a better leader and have more wins than last year." Point guard Hope Owens has similar goals, including one "to be a better leader, a more vocal leader."
This focus on bonding and leadership doesn't stop the Lady Eagles from having big expectations for their on- court results, however. Both Owens and McGinnis hope to help their team make the state tournament this year. Having a raucous crowd of North fans certainly wouldn't hurt their chances of achieving that goal.
"We don't get a lot of people that come [to games] because they don't think girls are as good as boys, but it's the same. We play hard and we just want support," states McGinnis.
The team's first home game is at 5:30 on Friday, December 14th, against Shawnee Mission North, so make sure to show up and cheer the Lady Eagles on to victory. You can also follow the team on Twitter @ONLadyEaglesBa1l.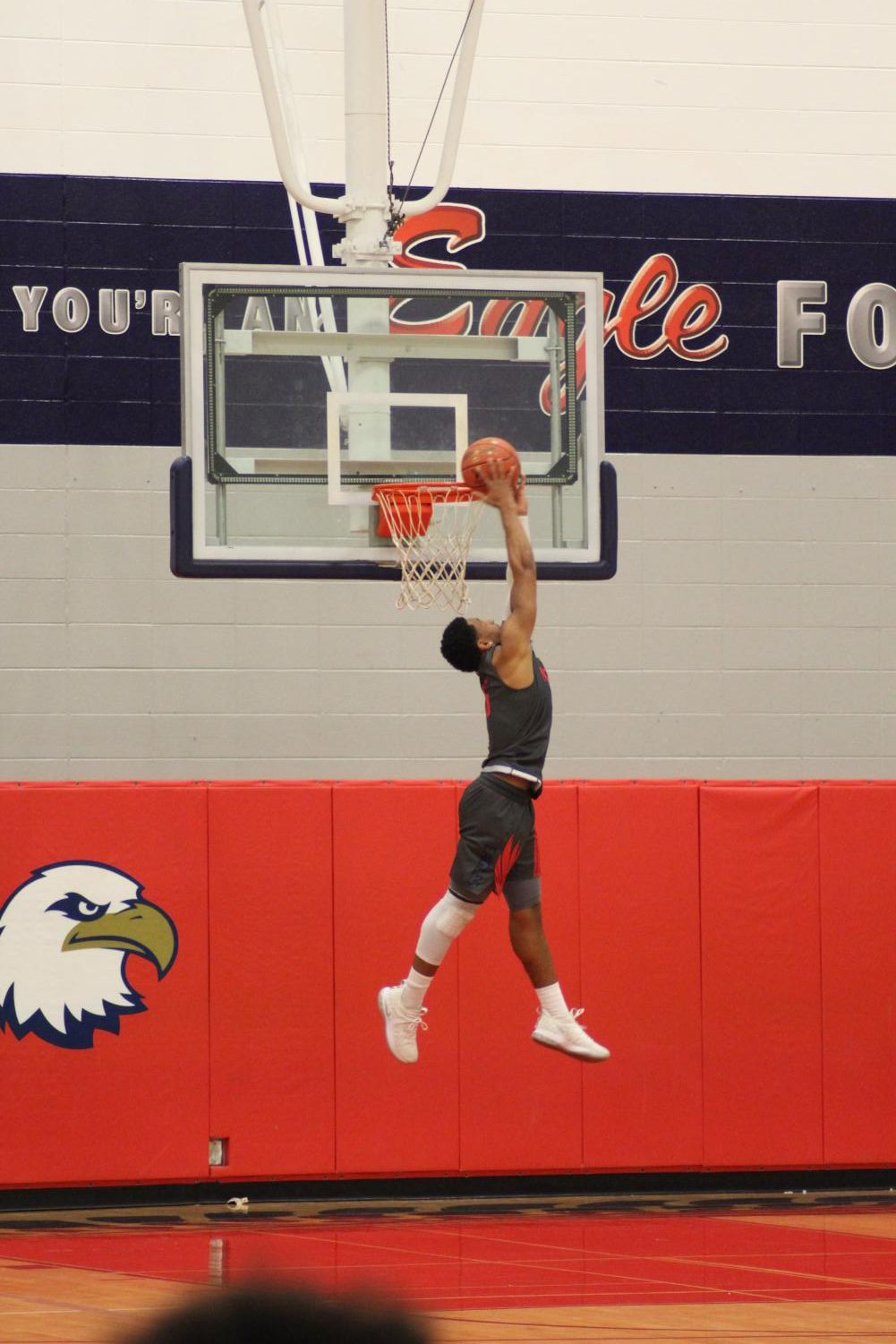 Boys Basketball
The 2019 Olathe North boys basketball team not only has high expectations for this season; they also have the talent to back it up. After making it to the state
tournament last year, this year's varsity team returns a lot
of last year's players including senior Tymer Jackson, a First Team All-Sunflower League selection last year, and junior KT Raimey, last year's Sunflower League sophomore of the year. Both players are currently considering Division I offers from around the country, but before they head off to play college basketball, they get to light up the court here at Olathe North. For Jackson, this year's goals are pretty lofty and include going undefeated as a team and getting a state title. After winning their first game against Pleasant Hill by a score of 80 to 33, these aspirations seem reasonable.
Besides winning state titles, this year's varsity squad also has a big emphasis on team chemistry. "For this seasonI want us to actually be a team, learn to cope with each other and be a brotherhood and be friends outside of basketball," states Raimey. Jackson also mentions having good chemistry as one of the team goals for this year.
If you want to see this excitement in action, attend the Eagles' first home game against Shawnee Mission North on Friday, December 14th. In the words of Raimey, "Everyone should come because we are going to be a show to watch."
Bowling
The Eagle bowling team may not have their first tournament until January, but they are already gearing up for the
season with high expectations. This year's bowling team looks a little different than last year's group but that's not stopping anyone from striving for team and individual success.
Sophomore Evan Harrison recognizes that this year's squad will be missing a major part of the previous year's team. "Our teams were a little bit smaller this year than they were last year. A lot of our really good bowlers, they've left, so we're all just kind of having a fresh start now," he says.
Harrison still maintains big goals
for himself, however, as he wants to beat his personal best game, a 242, and achieve a 600 series, which refers to the combined score of three games.
On the girls side, senior and Baker University bowling commit Emily Stamper hopes, "to be on the honor roll this year for bowling and qualify for state."
She also recommends that you attend a bowling tournament because, "It's completely different to watch than other sports."
You can catch the Striking Eagles in action at their first home tournament at Olathe Lanes East on Friday, January 18th at 3:00.
Boys Swim and Dive
The Eagle Swim team hopes to make a splash and dive right in to a season of unprecedented success this winter. All terrible puns aside, senior Derrick Yang and sophomore Aaden Lloyd both are hoping to get the entire team to the state meet, something that has not been accomplished in recent history. Yang already held up his end of the bargain in the team's first meet on December 4thby achieving a state qualifying time in the 100 butterfly. At the same meet, Yang also achieved a state consideration time in the 100 breaststroke, while Lloyd and senior Jack Spanel took home a first place finish in the 100 backstroke and 500 freestyle, respectively.
With such a successful start to the season, these athletes are all on track for their season individual goals as well. For Spanel, goals include qualifying for state individually in the 500 and making it to the championship the second day of state. Lloyd wants to make state in the 100 back and 200 free relay. As for Yang, the goal is simple: "to make state in as many events as possible."
Head coach Maria Arthur is a big advocate for her team and all the hard work they put in to achieve their success. "Swimmers are some of the best athletes out there, along with dancers. They do so much to keep in shape and they do not always get the recognition they deserve like the bigger sports do," she states.
Come see the swim team show off their hard work at their next home meet at Summit Trail Middle School on Friday, January 25th. Why? According to Yang, "because you get to see a lot of hot dudes wearing very minimal clothing."
If that's not what you're into, Spanel still believes you should attend because, "it's a fun environment honestly" and "it gets hype."
For more information on the boys swim team, follow @BoysOlathe and stay updated on the team's quest to punch their tickets to state.
Wrestling
After last year's state title, the North boys wrestling team is looking to create a dynasty and maintain their status as a Kansas wrestling powerhouse. For junior Gunner Murphy, this means making it to the second day at state individually and winning yet another team state championship. The team is ranked eighth in the Kansas Wrestling Coaches Association poll (as of December 4th) but by sticking to head coach Josh Carroll's goal "for each individual to get better as the year goes along," another state championship is not out of the question.
Several individual wrestlers are also ranked in the top 6 in their 6A weight class, such as sophomore Joe Triscornia (6th, 113), junior Keegan Slyter (1st, 126), junior Jose Cervantes (4th, 152), senior Devin Stoker (5th, 170), and junior Brandon Pena (5th, 285).
As for rivals, Murphy sees Olathe South, ranked 10thin the state, as the Eagles' biggest ones. Coach Carroll, however, believes that, "the biggest rival is yourself, cause you have to find ways to improve and come ready to work."
Come support North wrestling at their home tournament on Saturday, January 26thbecause, in the words of Murphy, "it's fun to watch us win." You can also follow the team on Twitter @ONHSwrestling.