Girls Golf
The Olathe North Girls Golf team started the season on August 28th and has participated in several tournaments since.
"We finished fourth out of six in the Olathe Cup and we finished eleventh out of twenty in Olathe West's tournament at the varsity level." Golf coach, Richard Sula said.
At these tournaments, the golfers played a style of golf called Scrambles. Scrambles are games that include up to four golfers and they all play off of each other, making teamwork a necessity.
Junior Lauren Fenton said that in scrambles "normally four girls are playing together, and all of you hit your own ball but then you go to the farthest ball to play from there." 
It's this kind of style of play that makes the cohesiveness of a golf team so important.
"Working as a team is very important," senior Trinity Mozingo said. "It helps with encouragement, especially if you're getting frustrated because golf is a longer sport… so having a solid team to back you up helps get you through it."
This year it is especially important because the team is bigger than ever. For the first time in years, the Olathe North Girls Golf team has a full roster.
"Typically, there've only been one or two girls that join each year but this year we had five or six new golfers," senior Tessa Mozingo said.
But what does a full roster mean for the Girls Golf team?
"It's a good goal for us to have all twelve golfers," Mozingo said. "Not everyone goes to every tournament and because tournaments are so frequent and so long, you're able to take breaks while others are playing."
With a full roster and a successful start to the season the Olathe North Girls Golf team appears to have an excellent season ahead of them, according to Sula.
"We've really improved a lot. Everyday we get better," Sula concluded. "We're doing really well."
About the Writer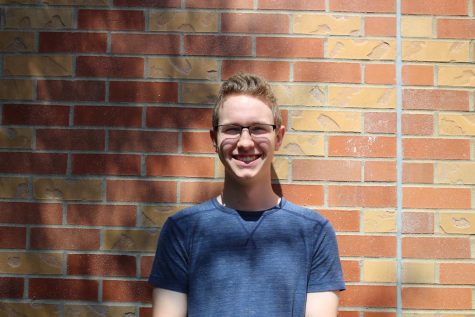 Sam Schaper, Copy Editor
Number of years on the paper: This is Sam's second year on the paper.

Grade Level: 11th, Junior

Favorite part of Newspaper: "being published in...