The Reality of Recycling
Are North students bad at recycling?
You're walking down the hallway looking for a recycling bin to throw your bottle away 
in, but as soon as you reach the recycling bin all you see is garbage inside. You begin to question how efficiently North recycles. 
Principal Jason Herman distributed the share tables all over the school for the soul purpose of reducing food waste. Share tables are for any food and or drink that have not been opened yet, so students are able to take as they please. There is one in the blue room, 800 hall, 200 hall, 100 halls, one by the fish tanks, the lower/upper commons, and the senior hall. "It's really important for me to help students differentiate trash from shareable food," Herman said.
On a daily average, Americans waste seven and a half pounds of trash. Imagine how much Olathe North wastes in just one day, where there are currently 1,965 students enrolled. 
"North has recycling bins in all classrooms, which gets picked up every week, so I think we're on the right track," the Olathe North GeoScience teacher Marsha Skoczek said. There are recycling bins located throughout the hallways and commons as well, " but there's always some room for improvement," Skoczek said. 
"If you know you won't eat something, then don't take it," Skoczek said. "We probably need more recycle bins around the building, but that costs money so it's a process, and we're working on that," she adds.
Some students question North's efforts to encourage recycling from limited recycling knowledge. "We could educate better on how and what to recycle and have issued recycling bins for every classroom," Senior Ty Twidwell, President of Olathe North Environmental Club, said.
Twidwell said that if any container has food on it, then it is contaminated and cannot be recycled. As long as the container is of recyclable material and it is clean, then it can be recycled.
"I think North could definitely do better at recycling," Sophomore Calista Stegner said. Stegner also commented about how most of the recycling bins are in the teachers' classrooms and so many people throw their trash away in them. 
Herman expressed his desire to share a video about how to recycle and use the share tables. "I've created a video with Eagle Flight Crew that I'm going to send out," he said. 
About the Writer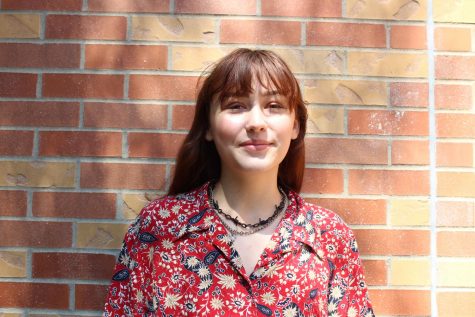 Lily Cook, Staff Writer
Number of years on the paper: This is Lily's first year on the paper.

Grade Level: 9th, Freshman

Lily is looking forward to: "To write"