Emily and Elizabeth
Alumni Emily Polston returns to Olathe North to speak with students about her involvement in presidential candidate Elizabeth Warren's campaign.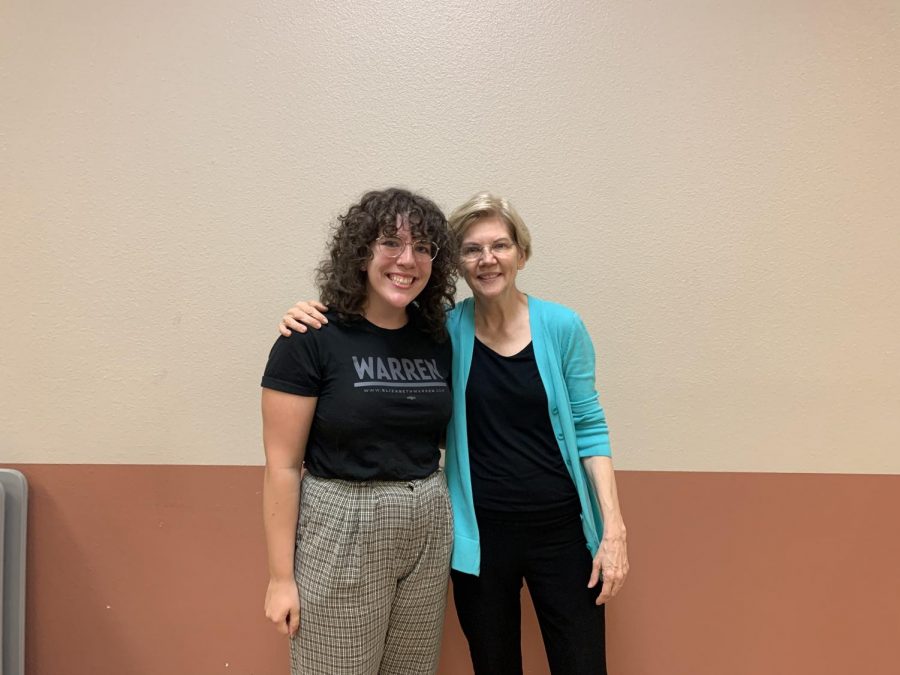 On September 6th, an Olathe North graduate came to visit and speak with Distinguished Scholars Political Science students. Emily Polston, regional organizing director for presidential candidate Elizabeth Warren in Las Vegas, Nevada, was able to share her political experiences with these students, most of whom wish to become involved in politics later on.
"I think that it is incredibly important to make sure that political spaces are accessible to all that are interested in participating in them," she said. "So, speaking with young, engaged students is a way in which I am able to show them a path to a space they may not have previously considered or attempted to make that space seem more accessible."
Polston graduated from Olathe North in 2014, and subsequently attended Kansas State University, where she received a B.S. in Gender, Women, and Sexuality Studies with a minor in nonprofit leadership. Since then, she's been involved in two different campaigns as a field organizer.
"The first campaign I worked for was a coordinated campaign in Missouri with the Missouri Democratic Party, and my primary focus was electing Claire McCaskill," Polston explained.
She also worked in Broward County, Florida in 2018, participating in a massive recount after initial inconclusive election results. After this, she moved to Las Vegas to join Elizabeth Warren's campaign, specifically focusing on voter outreach.
Many might not think that working on a political campaign is a full-time job, but for Polston it is. She receives pay, health insurance, paid time off, and is an active union member. In order to work for the success of the campaign, she must put in as many hours as possible.
"I currently work around 55 hours a week," she said. "Contextually, I was working closer to 90 in Missouri."
The Democratic presidential field is wide—twenty individuals are currently in the running. Despite all of the campaigns Polston had the option to volunteer for, she chose to work for Elizabeth Warren for a variety of reasons.
"I chose to be involved with Warren's campaign because she is dedicated, diligent, and willing to learn from communities in order to seek the solutions that will best suit the needs of those communities," she explained. "She started her career as a school teacher and has been consistent in demonstrating that where she sees injustice, she will call it out."
Polston believes that there is a large amount of support for Warren and her ideals in the Las Vegas area. According to her, many people seem ready for change, and think that Warren is the most qualified person for the job.
"Nevada is a very important state when it comes to determining the democratic candidate that will represent the party because it is the third caucus," she said. The first two caucuses take place in Iowa and New Hampshire.
Polston believes that communicating with voters directly is the best way to engage them in the political process.
"Connecting with voters is important because we all live very intricate and challenging lives and I think that listening and learning from each other is how we will find communal solutions to the issues we face," she said. "In order for our system to work for the people, as is the intent, we have to focus on breaking down systemic barriers and meeting people where they are."
Thinking about one's future can be a scary thing, and Polston is no stranger to this feeling. Before becoming involved in politics, she wanted to be an English teacher. Now, she is considering working to improve the educational system as a whole.
"I can, however, see myself going back to school to get a degree in education, perhaps educational policy," she explained. "As for politics, I think that any way I interact with the world will be political, whether that's professional or otherwise I have yet to decide."
About the Writer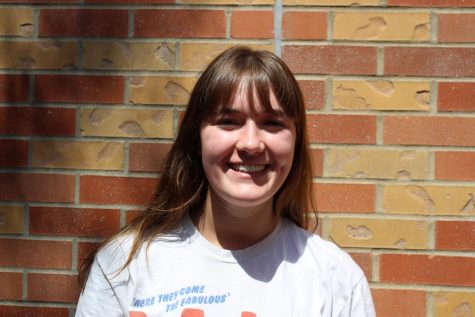 Abby Shepherd, Lead Editor
Number of years on the paper: 2

Grade Level: 12th grade, Senior

Favorite part of Newspaper: "I like interviewing and being able to meet new people"

Favorite...