Olathe North Sends Out an SOS
The Olathe School District rolls out their strategy for suicide prevention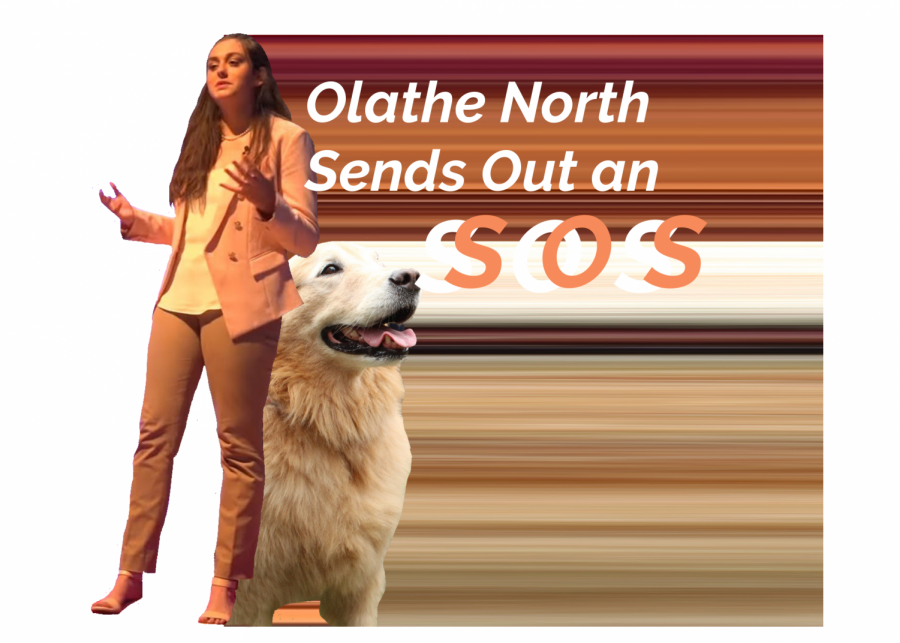 Elizabeth Tuckess, Staff Editor
October 14, 2019
On September 23rd, 2019, the Signs of Suicide (SOS) program was implemented at Olathe North for the second year in a row. The program aims to help combat teen suicide and bring awareness to mental health issues as well as the warning signs of suicidal ideation. This was done with a number of resources compiled by the district and SOS creators, such as powerpoints, videos, and presentations.
"81% of people who attempt suicide tell someone what they are going to do, and when they are going to do it before they do it," said Sadie Penn, the woman speaking in the TedTalk shown to grades 10-12. This video was only given to upperclassmen in order to not repeat the same content they had viewed the year before, and it allowed the students to sit and absorb the harsh truth in Sadie's words.
There was concern shared by some students about how the content was going to be taken by the student body. However, Nicole Etherton, one of the counselors in charge of SOS implementation at Olathe North, made it clear that the content was to be easier to connect with.
"Sadie, as she does the TedTalk, she is probably in her lower 20. Its not like a 30-40-year-old talking to teenagers about teen suicide. It's a young adult talking to teenagers about teen suicide." Etherton stated. She explained that one of the goals was to reach more students with the video and help them open up to communicate on the topic of suicide and suicidal ideation.
Suicide prevention in schools was mandated in Kansas back in 2016 through the Jason Flatt Act. Due to an increased number of teen suicides within the state, the Olathe School District took on the SOS program to further combat teen suicide.
"The school district decided that they were going to adopt the SOS program as our method by which we would do a school wide screening of students for suicide prevention." Etherton explained. After the delivery of the lesson, the self-screener was passed out with the intention of allowing students to check in with themselves rather than provide a diagnosis.
Following the screener, all students were expected to fill out a response card either requesting to see a counselor as soon as possible, later that week, or to say that no contact was necessary. Classes were mostly quiet, as perceived by their advisory teachers.
"My kids were honest and participated," teacher Jane Bush commented. "The mood was somber and quiet."
American Foundation for Suicide Prevention found that, in 2017, 47,173 Americans died by suicide. The National Institute of Mental Health also reported that 7 in 100,000 youth ages 15 to 19 die by suicide each year.
"We can go over and over and over that these are the symptoms, these are the warning signs, these are the… But it was really, 'What do you do with it?'" Etherton said. "SOS tells you what to do with it." SOS also created the ACT acronym, standing for "Acknowledge, Care, Tell," creating a simple process for students to follow if they are uncertain on what they should do or say to a friend that they are worried about.
It falls not only onto students to be able to use ACT, but also for staff and administration as well. To be able to acknowledge that someone is going through a rough time, to be able to show that care to that person, and to be able to tell someone that can help get the person to a better place. There lies the focus on educating the students and the staff on what they can do and what they should do to help people who are exhibiting the warning signs and behaviors.
The American Foundation for Suicide Prevention estimated that there were 1,400,000 suicide attempts in 2017.
Penn brings up the point, that was also later addressed in the 10th-12th grade power point, that there is a massive stigma around mental health and suicide. Within guided discussion in the power point, it was asked why the students felt there was a stigma around mental health.
"Suicidal people are terrified to ask for help because the whole idea of suicide has been stigmatized to the point to where even those of us who struggle with it seem to believe we are, in fact, crazy," Penn explained. And the stigma only barely fell away in classrooms as discussion inched forward.
Some advisories had difficulty opening up and talking on the subject. It was to be expected; however, the lesson retained some effectiveness as students discussed.
"Only a couple of students volunteered during the discussions," teacher John Lane said. "Some [students] needed to be excused as the topic may have been too much." They allowed for students to receive help from teachers in the halls as they left the conversation within their classroom.
One of the biggest concerns with the lesson was going to be the negative impact on students who are triggered by the topic of suicide
"Certainly, the last thing we want is to cause kids to be upset from [SOS], but yeah, that is a natural reaction. And if there is a kid that has a connection to suicide, yeah, its going to trigger," Etherton said. "We've already started meeting with these [opt-out] kids to say, this is what's happening. Some of them opted out last year and they wanted to be in there this year, vice versa, but to give them that option of saying 'This is what's happening' … so that they don't even have to be part of the lesson if it is something that they are afraid is going to trigger."
With the opt out plan in place, they created one extra barrier to make the students more comfortable. But the SOS day was not the only day Olathe North addressed suicide prevention.
During the week of suicide prevention, September 8th-15th, Olathe North administration arranged for a group of therapy dogs to come in and be support mechanisms for our students. These surprise visits by therapy animals were impactful and allowed for stress relief in the student body.
In a study by the Centers for Disease Control and Prevention, it was estimated that there is one suicide for every 25 suicide attempts.
"I'd like students to know that adults care about them and want to help them any time they are struggling.  Students also need to look out for one another — if we ACT — acknowledge, care, and tell when we are concerned about a friend, it can make a big difference in their lives," explained Angie Salava, Director of Emotional Learning and Mental Health Services for Olathe Public Schools.
"With help from our outside clinicians, we were able to see 125 students," Etherton began. "This includes students that self-reported that they wanted to talk, students that were referring a friend, and the friends that were being referred. Many of the students that reported they wanted to talk to someone were NOT students that we were aware had any struggles, so we consider this to be a huge success; Because of SOS, we are now able to step in and provide support and resources to parents and students that otherwise may not have [had any]."
Along with these improvements, the schools continue to receive feedback on what they could do next.
"Absolutely, I would say, yeah, the way we do it, not perfect," Etherton spoke on criticism of the SOS program. "Could it be better? In an ideal world, yes, but how? When you have over 2,000 students in a building, there isn't an easy way to do it" And as both the school and district take in the feedback on SOS implementation, students get a few opportunities to get more involved.
"Yes, [the counseling team] wants your ideas, but know that if you want to implement them, you have to step up and do it," Etherton explained. As these new ideas often have to be presented to Principal Jason Herman, and sometime the school board, it is clear that creating a change past giving input on the SOS program takes a lot of work. But being able to make a change and become a leader in the cause is not impossible.
The National Institute of Mental Health found that suicide was the second leading cause of death among individuals between the ages of 10 and 34. This epidemic will not just disappear.
WHO LET THE DOGS IN
On September 12th, the Olathe North administration and counseling teams brought in a group of therapy dogs for the second year in a row to give the students a mental break during Suicide Prevention Month. Students from all grades enjoyed the fluffy visitors.
"I have a dog at home and sometimes I miss my dog so that just made my day better."
-Megan Chitwood, grade 9
"I liked the dogs because they are cute."
-Lincoln Schick, grade 12
Acollection of photos of September 12th when Pets for Life KC brought therapy dogs to Olathe North's courtyard | Photographer: Arriona Shorter