Olathe North Celebrates Hispanic Heritage
The music blares through the gymnasium speakers, bringing a rhythmic melody to the floor. Students representing many different countries stomp to the beat. Vivid floral shirts, big poofy quinceañera dresses, and brown leather boots and belts fill the eyesight, illustrating a colorful garden of culture. As they move in the circle they break off into various forms of dance—close and personal. This group represents the Hispanics of Olathe North. 
In Olathe, Hispanics make up the largest minority at 11.6% of the population. The hispanic population has been increasing steadily in recent years and many in the community have begun to notice.
Katelyn Girod, Hispanic Community Services Facilitator for the Olathe Public Schools and Hispanic Leadership club sponsor, moved here as a child and remembered that Olathe was far from diverse.
"It was predominantly white, upper middle class, Christian, and conservative. That was mostly what you saw, but that has totally changed," Girod explained, "I was surprised, but also happy to see how much the community had changed and grown. We [have many] ethnicities and heritages represented across Johnson County." 
The increase in Hispanic families in the Olathe area has lead to an increase in the number of Hispanic students at Olathe North. This school year 28% of the student body is Hispanic. Reflecting national and local trends, Hispanics make up the largest minority at Olathe North, but at a higher percentage than both statistics.
The word "Hispanic" refers to people who are of Spanish speaking countries, most in Latin American countries. The majority of these people are native to the American Continents, making Hispanics true Americans. 
Many of the families living in Olathe and even in the surrounding area of Olathe North have been here for generations. Hispanic Leadership Club [HLC] and Bike Club sponsor and Coordinator of diversity Erik Erazo has seen these changing generations in Olathe North.
"The first kids I worked with here were absolutely not here from Olathe, they didn't identify as being part of Kansas… they felt like they didn't belong," he said. The students he refers to are now adults who grew up with this sentiment.
"Now I am working with the kids of those kids. They are way more connected to Olathe. Their parents are going to tell them stories of how they went to Sonic on Santa Fe back when they were kids. [The new generations] get to add their own stories of Olathe to it," Erazo elaborated. Now there are many students who have roots and history at Olathe North which provides an entirely new perception than previous generations.
Each family has their own characteristics and different sentiments. Many of the characteristics vary depending on when the family settled in the United States, the number of generations, which specific country and region they came from, different educational levels, and the way the family interacts with American culture.
Colonization occurred which changed their culture. Spanish, Aztec, Mayan and Incan cultures have been mashed together to create rich traditions that now define Latin America. Many of the people who immigrated from Europe to the United States claimed they were Americans, leaving those native to the continent in a limbo of not being able to identify as anything.
Although many families are generational, there are some families that recently moved here without knowing the English language, and many students who are in those situations attend Olathe North as English Language Learners [ELL] students. These students don't necessarily have the basis in American Culture to consider themselves Americans, but through time they adopt certain aspects of the culture including views towards education. Erazo explains that, through HLC, college had been introduced as a post-secondary school option.
HLC and Latina Leadership Member Brittani Portillo explains that her mother wants her to get the education she never got. Portillo's mother encourages her "even though she doesn't really understand the [college] systems" in the United States. 
Many HLC students across the Olathe Schools have noted that their sponsors aid them went it comes to thinking about college. Whether it is making college visits as a club, paying for an ACT, giving scholarship opportunities, or offering community service letters. Sponsors and HLC supports students' big dream, but the same is not necessarily true at home.
Olathe South senior Brenda Santiago mentioned the difficulties she faced when introducing this new idea to her family. "Recently with me wanting to go to college far away my parents wanted me to stay home," Santiago noted, "Because the hispanic community is very close knit and wanting to go far away for college is not a thing you do." These concerns can stem from parents wanting their children close in case of emergencies, or financial problems.
Other students note different generational differences between hispanics. Olathe North Sophomore Alex Molina stated that he sees the younger members of the hispanic community becoming more tolerable and accepting towards less conservative views/ groups. Portillo also mentioned how her family viewed staying over at people's houses not normal when many American families embrace it as a bonding experience.
Across the Olathe Schools, Olathe North is seemingly the most diverse and well integrated school. Leslie Tellez, Olathe West Junior, noted that North is steeped in traditions that allow for Hispanic culture to be "paid attention to", but West has the ability to create new traditions and be even more involved in the rest of their school activities. Santiago also believed North is much more accepting of different cultures, especially Hispanic culture.
Historically, Hispanics have seeked recognition in the United States. Their origins weren't inquired about in the national census, their needs weren't met during the Civil Rights movement, and their cultures and history in the U.S. weren't represented. Due to these injustices, Hispanics demanded action and things slowly began to change.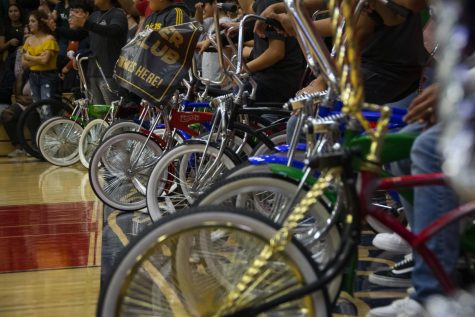 Students at Olathe North have worked to project acceptance for many cultures. Hispanic Leadership Club [HLC], particularly, aims to raise awareness of the Hispanic Culture and educational opportunities for Hispanics. Melissa Escareno, Olathe North Sophomore, is part of the Low Rider Bike Club, a subgroup of HLC. Escareno volunteered at the car show Saturday, October 12th, that fundraised money for the club to be able to give bikes to elementary school students. 
Escareno explains, "Just by how the way we are, we are probably stereotyped a lot, but through this event we get to show who we really are with [these] cars and everything and what our money and community can do for everybody."
On other occasions HLC raises money for a college fund that helps Hispanic students pay for post secondary education and organize bailes to promote unity within the Hispanic community, inviting all the high schools to participate.
These same students aim to clear the air and establish themselves contributors to the community, combating the negative assumptions made about them. As an AP student, Portillo notes that she doesn't culturally identify with anybody, inferring that there aren't as many hispanics in AP classes. Portillo emphasizes that hispanics are not confined to "certain jobs" or "regular classes" and that they are present everywhere in the school. 
A Hispanic Heritage Week Bill was passed in 1968. Then roughly 20 years later, the Hispanic Heritage Month Bill was passed, which starts on September 15th and ends on October 15th. To this day, Hispanic Heritage Month has been an integral part in celebrating our nation's diversity and, more recently, Olathe's diversity.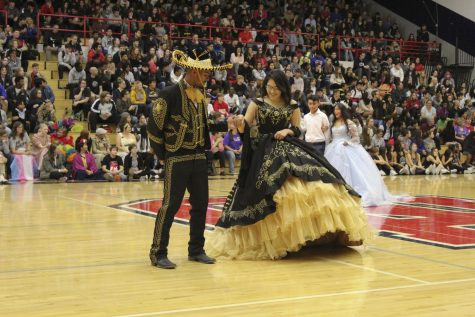 Because of the experiences that Hispanics have in the education system or even society, there have been efforts to combat these things. Many have found the Hispanic Heritage Month allows them to spread awareness. Girod and Erazo find that the Hispanic Heritage Month allows for more "visibility" for the Hispanic community to be able to show their culture and be considered politically which is exactly was intended for at its creation. 
Benitez explained that through this month we have the opportunity to teach things from our culture while celebrating it. During the Diversity Assembly on November 7th, HLC danced Rodeo del Payaso having taught many people so they can join and participate.
Despite the awareness that is spread, some people view the month as a distraction from a bigger problem. 
"It is also problematic because, obviously, people aren't just hispanic for 30 days out of the year. And the community shouldn't just be considered for just those 30 days. It's not something that should be talked about that one month and forget." Girod stated.
Throughout many interviews, there was a resounding agreement that Hispanics are sometimes not being considered or represented throughout the year. Although many do note that society is constantly improving to include Hispanic and other cultures in different aspects of life.
George Edward Brown—the Californian Representative who proposed the Hispanic Heritage Week in 1968—stated its purpose is to place a spotlight on Hispanics so that the media would discuss them. Nearly 50 years later, Hispanics continue to grow and get more involved in United States communities. Now, it is more important than ever to highlight Hispanics in every place, including Olathe North.
Girod reflects on her involvement in the Hispanic community throughout the years. 
"I'm not latina, I'm not Chicana, I'm not hispanic at all … So for me, it has been a real privilege to be able to work in the community to build strong relationships with students… and to be in this role, it is an honor. You don't have to be hispanic to support Hispanic students or Hispanic families… you just have to take an interest in the community and show that you care!"
About the Contributors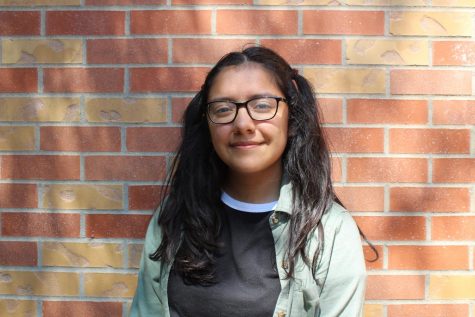 Sarah Montes, Staff Artist
Number of years on the paper: This is Sarah's second year on the paper.

Grade Level: 11th, Junior

Favorite part of Newspaper: "Designing and photo...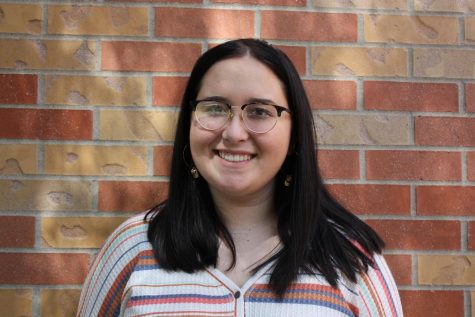 Mariya Adcox, Staff Writer
Number of years on the paper: This is Mariya first year on the paper.

Grade Level: 12th, Senior

What Mariya is looking forward to: "writing good...