The Eagle's Take on Super Bowl LV
The Chronicle surveyed Olathe North students and staff on their thoughts of the Chiefs going back to the Super Bowl for the second year in a row and the results of the game.
"I always look forward to [Brady and Mahomes] matchups. Both are really good in the pocket and excellent quarterbacks. Even though Mahomes has done better statistically, Brady has been in 9 super bowls so far so he knows how it goes." -Meirah Paul, 10
"The Chiefs are an organization that has thrived on work ethic. For the longest time, they have had the will but not the way. They were missing the last piece of star talent. They found that in their star quarterback Patrick Mahomes. This new piece has unlocked the path to back to back Super Bowl appearances and nearly a threepete." -Brad Polston, 10
"It was boring and there were so many unnecessary penalties. Also then Chiefs got super in their heads and I think that's what ruined the game." -Isabelle Campbell, 10
"The Chiefs have proven themselves to Kansas City and the NFL. They deserve this. Their team together makes up a dream team, they support each other and pick each other up in the hardest times. I believe that they look up to their teammates, and aspire to be like them. It is a healthy competition that allows the Chiefs to build off of one another and get the job done." 
-Lanie Gardner, 10
"I think it's more important than ever as we have had such a rough past year with COVID and it's collateral damage on everyone and everything. No matter your love of football or not, the KC metro area has been brought together as the 'Kingdom,' from the excitement of last season and the promise of another championship. It gives us hope, something fun to cheer for and makes us invested in our community." -Mrs. Bloomer, ON Art Teacher
"It's very cool for them, but I'm just in it for the food at the parties." -Sarah Montes, 12
"It's super exciting to see Kansas City get the attention it deserves,and being able to show off the midwestern positivity and pride to the world!" -Abbie Peters, 11
"Pog." -Garry Bhullar, 12
"I [wanted] them to win because Kayleigh McEnany is cheering for the Buccaneers" -Nithya Kailad, 10 
About the Writer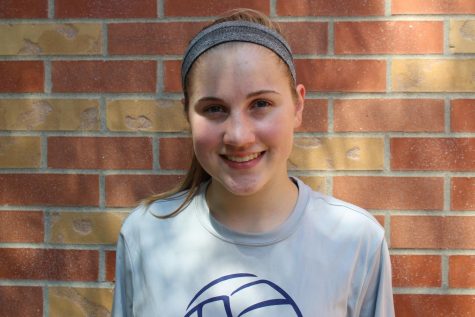 Eve Loehrer, Staff Writer
Number of years on the paper: This is Eve's first year on the paper.

Grade Level: 9th, Freshman

Eve is looking forward to: "I love designing spreads...