Do You Have School Spirit?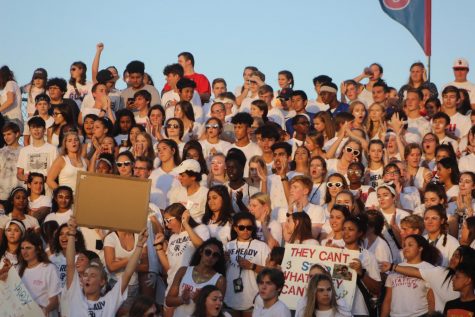 Hoping to drum up Olathe North spirit, a new class was created for the 2018-2019 school year. Named Eagle Flight Crew, This class is taught by Robyn Eick and hopes to create a positive atmosphere at all school sporting events and activities. Flight Crew is a different in some ways than the spirit leaders last year. "A major goal we want to accomplish is to make ON a safe, inclusive space for everyone at sporting events and activities and encourage school spirit," said Flight Crew member Ashley Strella. "Last year [the spirit leaders] only had a couple students in the stands," exclaimed EFC member Detrik Ortiz, "This year we want people all around the crowd for students to get involved in the game." The crew has created new chants and cheers like "This is our house" and "Knock em down, Roll em around". They want to get the crowd involved during the whole game to make the players feel excited and pumped up to play This year Eagle Flight Crew would like to go to all school activities. "This year were trying to go to all the games,'' EFC member Emma Rogers announced. "Most people don't come to volleyball games or softball games, and if they do they're normally parents."
The class is also geared towards having leadership skills. "During the class we plan the week, make posters and decorate the school," EFC member Trinity Sharp reported. They have been learning about how to keep the stands a positive place and how to be a leader.
Eagle Flight Crew is one of the few classes you have to apply for. According to Ortiz ,"to make the class you have to fill out a short application, get teacher references, have good grades and get an Interview from Mrs. Eick." Everyone in the class is either a senior or junior. The class meets during fifth hour and is in the FACS hall. One of the main points of Flight Crew is to try to have at least one person come each games and to go to all sporting events. Although the goals of the new Eagle Flight Crew have developed the changes aren't wholly apparent yet. Senior Olivia Anderson-Davis, who plays on the JV tennis team, said they've had 3 matches so far and haven't seen any Eagle Flight Crew there. Junior Caleb Nelson has noticed the same things. He plays on the junior varsity and varsity football team who said only parents have been coming to their JV games. He says he enjoys playing varsity more because the crowds are more intense. The new Eagle flight crew is and will be working hard this year to get Olathe north to have as much school spirit as possible. They want to make North events safe and fun for everyone. "We want to help games go smoother and keep the student section a positive place," EFC member Felicia Honeyman said. The Eagle flight crew is helping to make the student section a better, more involved place for all of Olathe North.
About the Writer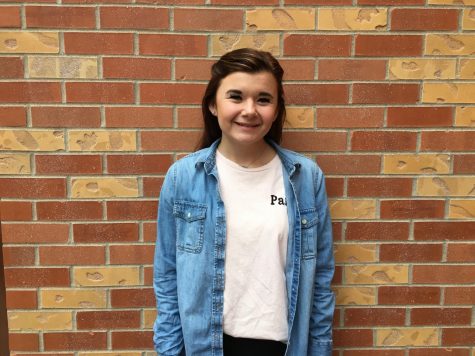 Claire Decatur, Staff Writer
Number of years on the paper: This is Claire's first year on the paper

Grade Level: 11th grade, Junior

Favorite part of Newspaper: "Taking pictures...