Best Summer Reads
The Diviners
By: Libba Bray
Rebellious Evie O'Neill is kicked out of her midwestern home and sent to live with her quirky uncle, Will, in New York City due to her psychic abilities. She gets caught up in solving a paranormal case puzzling the city, making new friends with various powers along the way. The Diviners is the first book in an ongoing series.
One aspect that makes this series unique is its powerful diversity. This story takes place during the roaring twenties, and author Libba Bray finds a way to represent the social minorities of American Society. The cast of The Diviners features characters who are black, Asian, poor, gay, asexual, have disabilities, and more. Most importantly, each of their character arcs and fleshed out, and no character is haphazardly thrown in just to make the story diverse. Each character has a strong and intentional role in the story, which prevents the multi-perspective aspect of the writing from becoming confusing. Every book in the series is equally powerful and worth the read.
According to Bray's Goodreads profile, the fourth and final book in the series is currently being worked on and does not currently have a public release date.
Six of Crows
By: Leigh Bardugo
Six of Crows is the first in its duology. Kaz Brekker, a witty and clever criminal working in the fictional city of Ketterdam, is presented with the heist of a lifetime. With the help of his team of outcasts, Kaz must carry out deadly tasks that could mean either a life of riches or death.
This book is perfect for people who love high-stakes adventure stories that leave you on the edge of your seat with sweaty palms. Kaz's ability to construct such mind-boggling plans to break people out of prison, sneak into buildings, and walk out of fights without a scratch is thrilling to read. It almost makes you forget that the main characters are a group of criminals. One fault of this book is its confusing exposition. Due to the nature of high fantasy novels, Ketterdam is an incredibly complex world that takes at least 20 to 30 pages to understand. However, the story quickly picks up afterward, and it is completely worth getting through due to its amazing characters and plot as well as its satisfying ending.
Britt-Marie Was Here
By: Fredrick Backman, translated by Henning Koch
After dumping her cheating husband, persnickety Britt-Marie finds herself alone and struggling to make ends meet. The only job available for her is in the decaying city of Borg, and she is left with no other option but to start a new life in the most run-down city in the state. Borg is home to quirky characters with rough backgrounds, and as Britt-Marie's life becomes tangled with theirs, she finds that Borg may not be as awful as it seems. The author of Britt-Marie Was Here, Fredrik Backman, has a talent for making readers fall in love with unlikable characters. Britt-Marie comes across as an uptight and judgmental snob, but I found myself strongly sympathizing with her by the end of the book. Her obsessive-compulsive tendencies and "helicopter mom" attitude make her the type of person you would likely despise upon first meeting but learn to admire as time goes on. This is something I greatly enjoyed about this novel, as well as in Backman's other works such as A Man Called Ove. This book is worth the read and perfect for readers who are wanting to branch away from young adult books and explore adult books that do not contain any explicit content. Backman's writing is also quite humorous despite the serious themes covered by the book, which is refreshing and makes for a wonderful reading experience.
About the Writer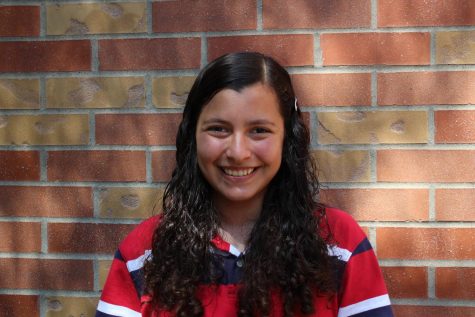 Ashley Honey, Co-Editor-in-Chief
Number of years on the paper: This is Ashley's third year on the paper.

Grade Level: 12th, Senior

Favorite part of Newspaper: "I love designing...