National Champions, Again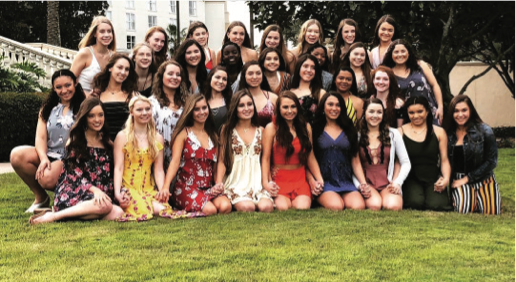 On January 30th, the Olathe North Eaglettes Dance Team went to Orlando, Florida for The DTU
Nationals. The Varsity Eaglettes came home with 1st in Pom for the third year in a row and for the first time ever Ju- nior Varsity Eaglettes went to Nationals.
The Eaglettes started preparation for nationals months before the competition. They started learning the dance right after tryouts but they got behind due to the field show. They had contemporary done in the beginning of the year and finished learning Pom in December.
TheteamleftJanuary30thand arrived a few hours later in Orlando, Florida. "We left at 3, got to our hotel in Orlando and practiced and relaxed," said freshman Eaglette Lily Harrison. The first day was still busy as it was filled with unpacking, rehearsing and looking around the hotel.
There was a change in coaching mid-December and it put a lot of pressure on the leadership of Varsity captain Grace Williams and JV captain Lily Matuszeski. "The responsibilities fell back us, we were now in charge of making our routines, changing dances, making formation. It was like we were the ones coaching the team," said Williams.
Some of the girls get themselves personally ready by conditioning before school. "Some of the senior and juniors would come out at 6:30 to work out and would practice at 7," stated Cassie Walsh. "We tried to work on building stamina. I would prepare mentally by getting ahead on school work and doing extra credit." The team works non-stop all year to get ready for Nationals.
For the first four days the Eaglettes mainly rehearsed and got ready for the competition on Friday and Saturday. The trip wasn't all fun and games, as most of the days were long practices and preparation to get ready for their competition. They had different master classes they could take to get vvbet- ter at dances like hip-hop and jazz.
The highly anticipated competition was the fifth and sixth day and the girls were eager to dance. They woke up early and got their makeup and hair done. "One of my least favorite parts was waking up early on competition day and getting our hair and makeup ready," stated Williams.
JV and Varsity competed on the fifth day and then found out later all their dances made it into finals. The next day they competed in finals and received the awards later that night.
The Varsity Eaglettes team competed in Pom and Contemporary and placed first in Pom and seventh in contemporary. The team has won pom for three years in a row. "It feels so good to be apart of that history and every time you know the work is worth it," exclaimed Williams.
Although the Varsity team has attended Nationals for over 10 years, this is the first time Junior varsity has ever gone. The JV Eaglettes placed third in Pom and seventh in Jazz.
"You can see a difference in going to Nationals and not, it's such a different experience and you get so close to the team because of all the time we spend together," said Matuszeski.
On the teams last day in Florida, they got to go to Universal Studios. "I loved going to Universal Studios because I finally got to go to Harry Potter world," exclaimed Harrison. She adds, "It was nice to take a break from all the competitions and finally relax." The team went to Disney World last year, but went to Universal Studios for a fun change.
Most of the girls' favorite part of the trip was getting closer as a team. "We would all eat dinner together in someone's room and we had a girls' night where we would all talk and hang out," said Freshman Melana Zorn. The team was together for a week so they got to know each other more during the trip.
About the Writer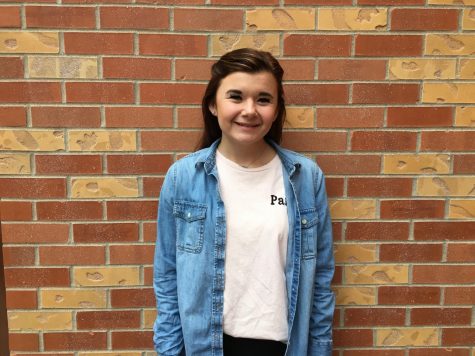 Claire Decatur, Staff Writer
Number of years on the paper: This is Claire's first year on the paper

Grade Level: 11th grade, Junior

Favorite part of Newspaper: "Taking pictures...