The Wings of Politics ON's Diverse Political Standing

Hang on for a minute...we're trying to find some more stories you might like.
High schools are reflections of the real world, and the world is divided. The students at Olathe North have diverse opinions on the laws and decisions that affect them. With programs such as Debate and Distinguished Scholars Political Science, the school doesn't have a problem sharing it's ideas. The Chronicle talked to three students, all identifying on different parts of the political spectrum. 
So to set the record straight what is liberal? What is conservative? Well, the answer isn't so clean cut. According to sophomore Libby Schuler, conservatives support "small government to expand free market" and liberals support larger government with the intention to financially support citizens.
To Junior James McClung, conservatism is "usually people that are more on the republican side of things", and that to be liberal is simply the other side of that. 
According to Wikipedia, conservatism is a "political and social philosophy promoting traditional social institutions in the context of culture and civilization" and describes liberalism as "a political and moral philosophy based on liberty and equality".
Of course, in the last three years, if you hear the words "conservative", you might think "Trump". But the conservatives students we talked to don't necessarily vouch for our president. Schuler finds Trump as "unpersonable" and McClung said "There are some things I wouldn't, and some things I would [support]." 
Is Olathe North divided? All of the students spoken to admitted that they knew that there is a difference in opinions, but that there is no true divide. Schuler explained that "sometimes there are misunderstandings", but students are mature enough not to get caught on political arguments. This is a merit to the school's teachings, as McClung said "I know there is [a divide] at other schools", but North encourages an environment for productive conversations.
While the nation (and the world) can be divided on politics, at the end of the day there is always room for agreement. High schools provide a space for young people with differing opinions to socialize together and meet in the middle. 
About the Writer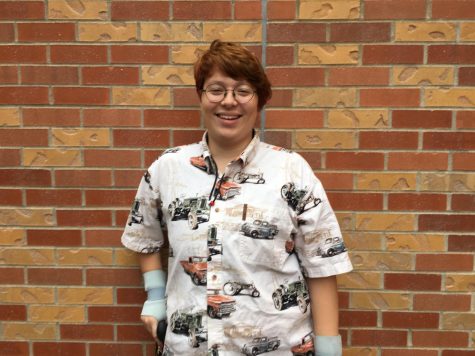 Miles Arambula, Staff Editor
Number of years on the paper: This is Mile's second year on the paper

Grade Level: 12th grade, Senior

Favorite part of Newspaper: "I like seeing...