Learning Outside of the Nest
"We got a runner!" yells your math teacher, as the alarm sounds from the double-doors opening down the halls. This is an everyday occurrence, so who's always leaving the school during the middle of the day? Well, it's possible it could be one of Olathe North's many student interns, who spend a portion of their school day at different facilities observing and helping professionals who work in their desired career fields, gathering hands-on knowledge about different professions.
Internships are a helpful tool for students. From hospitals, to veterinary clinics, to water treatment plants, many Olathe North students dedicate their time to shadowing professionals with career fields they aspire to pursue. Not to mention, some companies pay students for their help. 
Students who complete internships are likely to be in one of Olathe's 21st Century academies. The ones at North are Medical Professions, Geosciences, Animal Health, Distinguished Scholars, or Sports Medicine.
The 21st century academies are an exclusive opportunity to high schoolers in the Olathe School District, that gives motivated students an opportunity to get a head start when pursuing their dream career. The Academies offer alternative classes that cater towards students' interests, and challenge their passion for their desired field of study. 
Angela Epps, the 21st Century Academy Coordinator for the Olathe District, described the importance of the academies. "The academies provide the exploration to validate a student's interest in an area, and gives them experiences that most typical high school students don't get before going to college," says Epps.
Regarding internships, Epps states, "The academies provide authentic learning experiences over the four years in high school.  They have business/industry partners that mentor students and sometimes provide internships where students can work side by side with a professional during the school day for a few hours as part of their Senior Capstone class. Then they return to school for the rest of their day."
The Medical Professions Academy has many students doing internships at hospitals and other facilities, and centers it's Academy courses around Genetics, Research and Human Healthcare. Medical Professions prides itself with innovative labs, specialized experiences regarding research, and has many students completing internships.
 Zashary Ramos-Sandoval is a Medical Professions student and is currently doing an internship at the Olathe Medical Center Critical Care Unit. Ramos-Sandoval says that she wants to become a nurse practitioner after high school, and that her internship helps her build connections and get an advantage for college. She also stated that her internships provide her with hands on skills like patient interactions. "My internship definitely helped me decide what I wanted to do. I knew I wanted to become a nurse and later go on to become a nurse practitioner. It confirmed to me that nursing is the right fit for me. I was able to see real life action-not fictional scenes from Grey's Anatomy." said Ramos- Sandoval.
Another Medical Professions student who has done an internship is Senior Libby Williams, who did hers at Olathe Medical Center's "The Birth Place." Williams has been in the Medical Professions Academy since she was a freshman and says that she has had great exposure because of Medical Professions and the hands-on learning the academy provides. "Because of my internship, I learned I had a passion for labor and delivery," says Williams. Williams went on to say that her favorite part of her internship is that she gets to be a part of bringing life into the world almost every day.
The Animal Health Academy is the smallest academy at North when it comes to student size, but there are still students who do internships through Animal Health, Julia Sketers is one of these students, and is currently doing an internship at Bradley Pet Hospital. She has also done a lot of additional volunteering with animals. Sketers said that her internship has reinforced her passion for veterinary science, and has exposed her to new jobs in the field.
"The most memorable parts of my internship would have to be dealing with certain clients and seeing how they are managed by the techs and vets," she said. Sketers also added that she hopes to get an internship at Kansas State Veterinary Research Laboratories next year. 
Mark Perry is a Geoscience student who is completing an internship through Geoscience. Perry is interning at the City of Olathe Water Quality lab, and tests the city's water for chlorine, turbidity, pH, and alkalinity. "At the lab, I've learned how to use a lot of state of the art equipment, and I get insight into how a small staff manages projects in a real workplace," said Perry.
Sports Medicine is the largest academy at Olathe North, and focuses on Sports and Exercise Science. As of 2019, Sports Medicine has the most students doing internships. Brayden Reisner is a Senior in Sports Medicine, and is currently doing an internship at Olathe Medical Center for physical therapy. Reisner stated that most students who do internships want to pursue different areas of the medical field.
 When asked what his favorite part of interning is, he said, "Meeting different people and seeing who has the motivation to get better," Reisner added that his internship has helped him see what it is actually like to work in physical therapy and working with professionals. 
Another Sports Medicine student intern is Morgan Applegate, who has done a Sports Medicine Learning Experience internship at Compassionate Family Care. Applegate said her internship and volunteer coaching at Kansas Gymnastics and Cheer has helped her decide that she wants to coach more in the future, and that shadowing a nurse practitioner has secured her passion for nursing. Applegate also explained how seeing patient interactions while shadowing a Nurse Practitioner was helpful and taught her a lot about the realities of nursing.
Many students have the incredible opportunity to intern at different facilities, and they've all stated that their internships have helped them secure what they want to do in the future. Thanks to Olathe's 21st Century Academies, students can now spend parts of the school day learning hands-on skills for the career field they want to pursue. 
---
Student Perspective
Amandeep Nagra
How has volunteering in a hospital helped you decide what career you want to pursue?
I want to be a doctor and by volunteering at the hospital I get a lot more exposure to the field as well as make relationships with the staff that can later help me get a job and pursue my career.
Julia Sketers
How has your internship helped you decide what you want to pursue in the future?
"Being at Bradford has reinforced my passion for veterinary science and opened my eyes to the business side of the job." 
Zashary Ramos-Sandoval
How has your internship helped you decide what you want to pursue in the future?
"I knew I wanted to become a nurse and later go on to become a nurse practitioner. It confirmed to me that nursing is the right fit for me. I was able to see real life action not fictional scenes from Grey's Anatomy."
Libby Williams
What has been the most memorable part of volunteering/ doing an internship?
"I get to be a part of bringing a life into this world almost every day."
How has volunteering in a hospital helped you decide what career you want to pursue?
"I learned I have a passion for Labor and Delivery."
About the Writer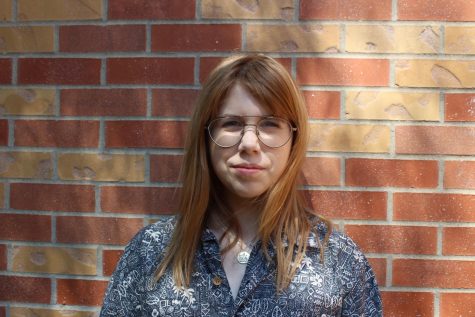 Hayley Adams, Staff Editor
Number of years on the paper: This is Hayley's first year on the paper.

Grade Level: 10th, Sophomore

Favorite part of Newspaper: "Work nights [are]...