A Spotlight On Naima Patel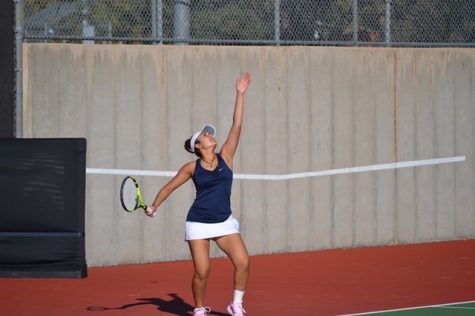 From the start of her freshman year, senior Naima Patel has made a name for Olathe North Girl's Tennis. She has been the only one on the team to qualify for the state tournament in the past four years. As a four-time state qualifier and two-time state medalist, Patel will leave a lasting impact on the tennis program and the school.
"Naima is a natural athlete and has worked hard to achieve her goals in tennis," head coach Wendy Robinson said.
Robinson coached Patel for all four years and enjoyed watching the improvement in her game. She is very proud of Patel for qualifying for state because of how tough the players in the region are this year. She will miss working with an athlete of Patel's skill level and leadership. Along with Robinson, Assistant Coach John Downing sees the leadership in Patel on the court and with her teammates. Both coaches enjoy the qualities Patel has brought to the team.
"She is determined, she loves to compete, and she never quits," Downing said.
These three traits were tested when Patel injured her ankle in the beginning of the school year. She started the season late but that didn't stop Patel from qualifying for state.
"I didn't play the first two matches and even with all that, I performed pretty much the same from past years so I'm pretty proud of that," Patel explained. "It's been harder this year because the pool of singles players are harder. I think considering all that, I did pretty well."
This season was Patel's most memorable since it was her last time playing tennis competitively. She plans to continue playing for a club instead of a college, but she will miss the experience of being on a team. However, tennis as a senior was different for Patel than her experiences from previous seasons.
"I've been on the team for four years so I know how everything works. I'm just able to sit back and enjoy it because it's my last time doing it," Patel explained.
Senior and teammate Elle Bui has played on varsity tennis for three years. She met Patel through tennis sophomore year and has enjoyed playing with her ever since. Bui had the opportunity to play doubles with Patel this season, making her last year of tennis unforgettable. Friends on and off the court, Bui will miss all of the memories she made on the team and with Patel.
"I'm going to miss her positive attitude all the time no matter if I messed up. She tells me to pick it right back up and she's just a great teammate," Bui said.
Teammates such as Bui and the coaching staff are proud of the athlete Patel has become and the accomplishments she has brought to the team.
"I have thoroughly enjoyed coaching Patel, she qualified for state all four years and worked hard throughout each year to improve her game," Robinson explained.