To Mask or Not to Mask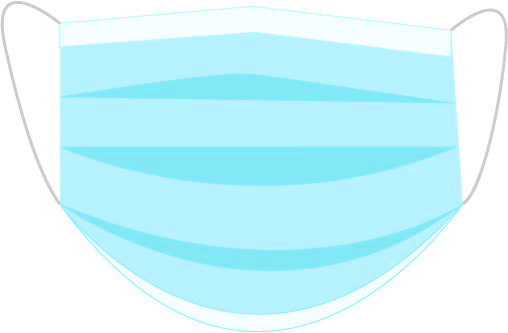 From coast to coast, including Olathe North, mask-wearing has become a constant source of debate since the COVID-19 pandemic began.
Angry parents on both sides of the issue have spoken in front of board meetings, and many local politicians running for the Olathe school board have made mask-wearing a focal point in their campaigns.
Students have also been divided about the issue. Some, such as sophomore Shauna Facteau, said that wearing a mask has not helped her feel safe at and around school.
"I don't like them because for someone with anxiety, it's kind of difficult to [wear them]," Facteau said.
Others, such as junior Nithya Kailad said that the mask requirement has been effective in preventing COVID-19 cases worldwide.
"Countries that have more mask [requirements] have lower death and transmission rates," Kailad said.
Politicians, as well as students, are also divided about the role that masks have played in the school environment. With the general election for the Olathe Public Schools board around a month away, candidates Julie Steele and Brian Connell have been making mask-wearing a focal point in their campaigns.
Steele, who is running for the District 3 position against Jennifer Gilmore, believes that masks should be required until health experts believe it is safe to stop wearing them.
"If masks will keep students in school, it's the right thing to do. Our goal should always be to get our students unmasked as soon as deemed safe to do so," Steele said.
Connell, who is running for an at-large position against current member Brian Geary, has spoken at numerous board meetings in opposition to the mask requirement. He instead has proposed that masks should be optional.
"There is no data that our county, state, and federal government has actually produced that masking does anything significant other than to protect mannequins." Connell said at the Olathe Schools Board Meeting on August 3rd.
Outside of Olathe, school board meetings have become hotly contested as well, with many parents on both sides of the issue fighting each other. In Williamson County Tennessee, just south of Nashville, parents against the mask requirement heckled masked parents leaving the school board meeting. At that same meeting, actress Leigh Allyn Baker, who appeared as Amy Duncan in Good Luck Charlie, prominently spoke out against the mask mandate. And in Johnston County North Carolina, US representative Madison Cawthorn was accused of bringing a knife to their school board meeting.
Overall, the divide between wearing or not wearing a mask in schools has been a major one in school districts all across the country, including the Olathe School District.
"Just like the differences in students in many ways, masks represent that wide arc, as well," Steele said.