In the Name of Privacy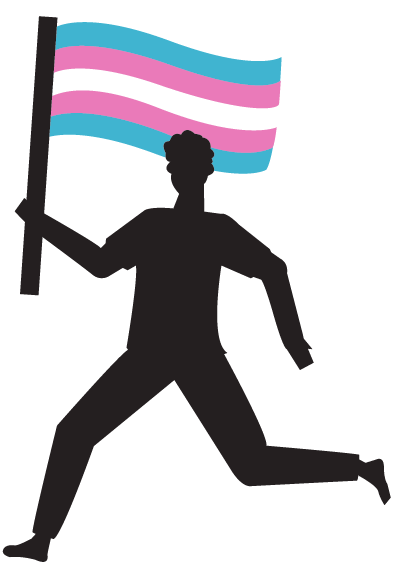 The Olathe School District's new policy regarding pronouns and preferred names has received backlash from Olathe North students
What's one of the many things about the beginning of the school year that high school students dread? Student info sheets. Writing down your favorite drink and what pets you have can seem a little unnecessary, but these sheets can assist some students in conveying important information about their identity to their teachers without a face-to-face confrontation. However, due to district policy, teachers can no longer ask for students' pronouns and preferred names, in any context, including on student info sheets. 
At the Olathe school board meeting on December 2, 2021, former Shawnee Mission North student Jae Moyer spoke on behalf of Equality Kansas of Metro Kansas City about their experience as a transgender student in Johnson County. 
"I got judged for the way I looked every day, the way I dressed, the way I talked, the way I stood," Moyer said. "Specifically I can think of one of my peers who was bullying me every single day and calling me names, and saying all of these terrible things."
Moyer was not supported by the adults in the building while they were being bullied, and they were concerned about the rumors they'd heard about the Olathe School District's new policy regarding pronouns and preferred names. 
"When I tried to go to an associate principal about the problem, they told me to just ignore it, just shrug it off and let it keep happening. And I could not talk to my teachers because they did not feel like they were in a position to communicate with me," Moyer said. "And I am saying this specifically because there is a rumor going around that the Olathe School District might adopt a policy that students cannot talk to their teachers and vice versa about preferred pronouns and preferred names."
It's not just a rumor anymore. On the same day, Olathe faculty received a document on Guidance Related to Gender Identity, which outlines the district's policy on handling students' preferred names and pronouns. According to Attorney Chris Pittman, the foundations of the policy are Title IX, which protects sex-based discrimination, and the Family Educational Rights and Privacy Act (FERPA). 
"If we have a student who has disclosed that they are [transgender] and shared with the counselor, the teacher, you know with anyone, that they maybe identify as a gender different than what their birth was, that's disclosing their gender," Pittman said. "And the question then is, before that is publically shared in the school community, should the parents have the right to be aware of that? And parents have the rights under FERPA."
Superintendent Brent Yeager supports this policy.
"Our intent is to continue to protect the privacy of our students," Yeager said.
School board member Brad Boyd believes this new policy could violate the privacy Yeager said the district intended to protect.
"From your comments, Dr. Yeager, and this is just my personal feeling, I feel like we are moving away from protecting kids and not having our teachers and administrators out kids to their parents, and I hope that we can, with more legal guidance and a better plan and better goal, come up with different guidance that wouldn't put kids or teachers in an awkward position, as you used, while maintaining the privacy of those kids who decided to confide in a trusted adult in the building," Boyd said in response to Yeager's comments at the December 2021 school board meeting. 
Consistent with the district's nondiscrimination policy, staff are expected to address students by their preferred name and pronouns. However, "Staff should not solicit (request or ask) students to share their pronouns or preferred names," in the name of protecting the privacy of students. Junior Madi Reseigh is skeptical about this clause as having the opportunity to share their pronouns in a less formal way, such as on an info sheet, makes them feel more comfortable. 
"Because I appear more feminine, people automatically assume my pronouns are she/her, and it's not that way," Reseigh said. "Even with friends, I am pretty uncomfortable trying to correct them, so when it's an adult, and a teacher in a professional setting, […] I don't want it to be uncomfortable for me, the teacher, or other people to say 'hey, those aren't my pronouns.'"
When teachers ask for pronouns on their info sheets, it gives transgender students an idea of whether or not it's safe to come out to their teachers 
"At least when teachers passed out those little information sheets, it [gave you an idea] if they're supportive or not. And now I don't really know," Reseigh said.
The district states that "best practice is for staff to obtain parental consent before addressing the student publically by their preferred name and/or pronoun." But for many transgender students, this communication with their parents can be dangerous.
"If teachers are required to tell the parents, 'your children are using these pronouns and this name,' and the parents find out about this and get really upset, it could put the child in real danger," senior Michael Hanzelka said.
The guidance says a student's request to use their chosen name and pronouns that don't correspond with their gender assigned at birth should be honored "without causing trauma to the student during the process," but having to inform parents of this change is often in conflict with keeping students safe. 
"As someone with not completely approving parents, it always sucks to see that 'parental consent' is generally something heavily encouraged," sophomore Mercury Hasty said. "School is a place where kids should all feel safe and they shouldn't have to hurt at home and at school because of their parents."
Reseigh is against this policy because it takes transgender students' decision of who to disclose their identity to out of their hands. Reseigh believes a better policy would be for teachers to ask in which environments the student is comfortable using their preferred names and pronouns.
"Not even talking about the risks of causing mental stress, it should be up to the student, not the teacher or the board," Reseigh said, "If parents need to give permission or know about a student telling a teacher their preferred name and or pronouns, why don't they need permission for other things that are 'personal?'"
This policy has not only affected how teachers handle pronouns and preferred names in their classrooms, but also students as a part of school-affiliated clubs. For example, Link Crew students were told that they weren't allowed to ask their freshmen what pronouns they use.
"Many teachers, if given the choice to allow students to share pronouns, would say yes because they care about their students' feeling safe and being able to express themselves, but their hands are tied behind their back because of district policy and that makes everything hard," Hanzelka said. 
English teacher Amanda Keltner says nothing has changed in her classroom, despite the district policy.
Respect for students comes first and foremost—they are the reason I am here and it is my job to provide support for them however I can," Keltner said.
However, other teachers have not handled the situation as gracefully. 
"The various ways that I've seen it handled have just very, I mean, for lack of a better word, discriminatory, even though I can almost […] see where the policy is tryna go in under the guise of [being] anti-discriminatory," senior Mel Dugblo said. "But the way that it's handled typically feels like it's being very much more counter-intuitive and counteractive to the people that are most affected rather than being helpful in any way."
Many students have also taken issue with the district's guidance regarding students with developmental disabilities. The policy states that "Informing the decision to disclose to a parent/guardian considerations related to […] whether the student has developmental disabilities."
"I feel like I don't even need to point out the ableism that's also in this document by specifying students with 'developmental disabilities,' as if able-bodied and able-minded students are the only ones that have identities which are perfectly normal for everybody on the planet," an Olathe North student who did not wish to be identified said. 
Other considerations staff were told to take into account when deciding whether or not to inform parents are "the age of the student; […] whether or not communications with the parent would cause trauma to the student, and a fear for the child's health as a result of the communication." Dugblo said they could see the value in considering the other three points listed, even if they didn't personally agree with them, but did not believe there was a reason to include the caveat about developmental disabilities.
"From any perspective I try to see it from, I absolutely cannot see any type of correlation between the very much outta pocket developmental disabilities comment and the subject of whatever the rest of this article is about, because if somebody here at our Olathe Public Schools USD 233 can provide me with a correlation, connection of any type I would be delighted to hear it because I'm really racking my brain right now," Dugblo said.
Considering the implementation of this guidance and the large number of bills regarding transgender people being introduced at both the state and national levels, the debate on policy surrounding transgender students will not likely stop any time soon. 
"I realized from a pretty young age that I'm never going to be allowed to just be me," Hasty said. "There will always be rules upon rules governing how other people respect me, which shouldn't be up for debate at all."