Clearing the Haze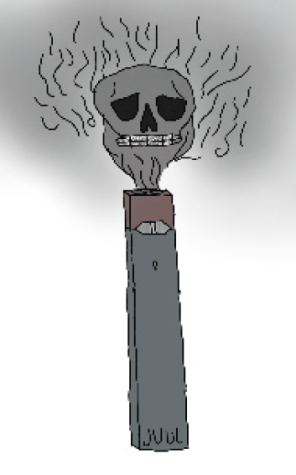 Since 2015, JUUL Labs has been smoking the competition when it comes to e-cigarettes. The company is most known for its trademark JUUL pods that add flavor to a vape device. These addictive products have gotten the company in trouble in recent years due to their prevalence in high schools across the country.
Two months ago, JUUL settled to pay $440 million to be split among 33 states and the territory of Puerto Rico due to an investigation led by Connecticut Attorney General William Tong.
"I'm under no illusions and cannot claim that it will stop youth vaping," Tong said. "It continues to be an epidemic. It continues to be a huge problem. But we have essentially taken a big chunk out of what was once a market leader, and by their conduct, a major offender."
The Olathe School District has also sued JUUL in recent years. The District filed a complaint against the company in September 2019, claiming that the sale of the pods and vaping devices is a danger to students' health.
Shannon Wickliffe, the Olathe School Board President, said that "Vaping is an epidemic and, as community leaders, we're taking the lead to protect our students and future leaders. The hidden dangers of vaping are triggering a health crisis and we're taking action."
The long term effects of vaping are still unknown due to its relatively recent emergence onto the market, but scientists are finding more and more evidence to point to its danger to students' health.
One risk of vaping is the fact that nicotine is still present in 99% of commercially available vape pods, including pods that are marketed as containing 0% nicotine. Nicotine is an addictive chemical that impedes the development of the brain by inhibiting the parts of the brain that are responsible for learning, attention, and mood, which can put teenagers in a less than ideal situation when it comes to school.
A secondary risk of vaping is the materials that can be inhaled from the vape device. Several dangerous substances have been found in the aerosol that is expelled from the device, such as diacetyl, multiple carcinogens, and heavy metals like nickel and lead. None of these materials are conducive to one's health, especially not for a still-developing adolescent.
According to a survey conducted by the University of Michigan, the number of underage vapers peaked in 2019, where 30% of 17-18 year olds reported having vaped at least once in the 30 days prior to the survey. By 2021 that number had dropped to 25% and has since continued its downward trend.
Aside from vaping's health risks, it also causes some academic problems. When students skip class to vape in the bathroom or other secluded areas they aren't learning the material they need to know to succeed in school, which makes life beyond high school harder for them.
A study done by the University of Rochester Medical Center found that both students and adults who vaped developed a "mental fog" that prevented them from focusing on information and remembering it at a later date. If students aren't able to remember important information on tests and do poorly on the test as a result, that can potentially shift the entire trajectory of their life.
There is still hope for students who vape. The sooner someone stops vaping, the less damage they'll do to their lungs and the better quality of life they'll have.
The hard part of quitting vaping isn't quitting – it's staying quit. According to WebMD, nicotine withdrawal symptoms generally peak within three to five days of quitting and most people who relapse go back to vaping less than two weeks after quitting.
Two weeks after quitting nicotine, the physical symptoms will start to subside but the mental symptoms will persist a while longer. According to the National Cancer Institute, some of the best ways to handle the mental side of withdrawal are preparing for cravings ahead of time, surrounding yourself with people who will support you, and picturing the future you, free from nicotine's hold and living your life to the fullest.
Information about quitting vaping can be found at teen.smokefree.gov or by calling 1-800-QUIT-NOW.