Olathe North Teams on the Up and Up
ON Gymnastics and Girl's Tennis teams look to revitalize in 2018.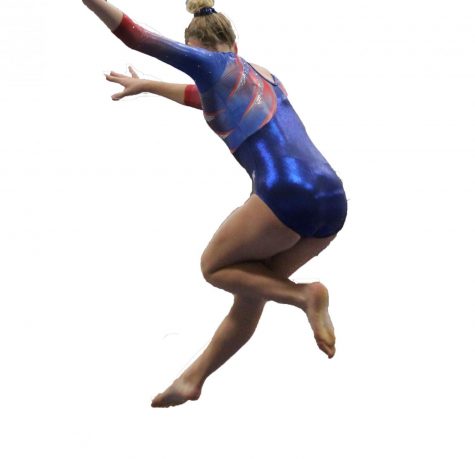 With so many events and activities going on at Olathe North, it can be easy for smaller sports to get lost in the crowd. However, many of these teams have been growing rapidly this year, as is their success. Fueled by increases in participation this season, both the Olathe North gymnastics team and girls' tennis team are primed for success!
Last year, the Olathe North gymnastics team only had one member. Two years ago, they did not even exist. Yet, through the persistence of local gymnasts and parents, this year's Eagle gymnastics team is thriving. Not many teams can boast about a team that is nine times bigger than it was last year, but Olathe North certainly can. "It is an exciting time to see our sport be brought back to life!" head coach Kristin Ramshaw states. The key to increasing participation has been, "just getting the word out that Olathe North has a girl's gymnastics team!" Visits to middle schools, summer camps, and the encouragement of other gymnasts has resulted in Olathe North having one of the highest increases in the state, and Ramshaw notes that statewide participation is up 30% to begin with.
However, the quantity is not the only thing that has improved this year- so has the quality of performance. With a full varsity team this year, the Eagles have placed in the top four in their last two meets (as of September 14). Ramshaw does not lack confidence in her team's future success, stating that, "when they hit all their routines, they are going to really start bringing home the hardware."
Senior Jessica Baugh has benefited from being a part of a strong gymnastics program this year, and it has shown through her success on the vault. She won the event at the Lawrence High Meet, but this success has not been without a struggle.
While gymnastics may seem more polished than other sports, injuries are still very common. "Twisted ankles are an everyday thing, and then we get rips on our hands. We all just tape everything up and push on," Baugh states. She also endures chondromalacia, a condition where the cartilage on the underside of the kneecap softens and deteriorates.
Regardless, Baugh loves gymnastics because, "it's a sport that teaches you discipline and values" and teaches her body control that she can transfer over into the other sports she participates in.
What other information about the team should high schoolers be aware of? According to Baugh, "That it exists." If you're still reading this article, then that should be taken care of. For more information about the team, follow them on Twitter @gymnastics_on.
Olathe North's girls' tennis team is another team on the rise in participation and potential this year. The twenty-five girls on this year's squad make up the largest team in recent history, and they are ready to compete toward their goal of placing in the top seven in the Sunflower League.
What makes the Eagle tennis team special? Head coach Wendy Robinson comments that the girls, "Take care of one another and have a great camaraderie." This has helped them find success in a sport that is more challenging than most expect.
"In order to play tennis well you have to have great eye-hand coordination, be competitive and be mentally strong. Tennis is a very mental game," Robinson claims.
These traits will be on full display at the Regional Tournament on October 6th, so come out and support the Eagles as they play for a chance to make State!