Change in Climate
Students Lead Climate Change Strikes Around the World
There has recently been a surge in student absences from school– all for a cause. In the past few months, students from around the world have been skipping school on Fridays, protesting their governments' inaction on climate change. Most of the protests have been concentrated in Europe, and the founder of the movement is a teenage girl from Sweden. Her ideas have traveled across America, and through the hallways of Olathe North.
In July of 2018, Sweden suffered from an unprecedented heat wave and destructive wildfires, and 16 year-old Greta Thunberg didn't think Swedish parliament was doing enough to combat climate change. In August, Thunberg decided to sit on the steps of the Swedish parliament building in Stockholm for five days a week, during school hours. She gained national attention for her strike, and pictures of her holding a sign reading "skolstrejk for kilmatet", which translates to "strike for climate", spread across social media.
Other students began to follow in her footsteps, walking out of school each Friday. Thunberg started to refer to these strikes as "Fridays For Future", and "#FridaysForFuture" has been used widely on Twitter ever since. On March 15th, 2019, a world-wide strike took place, with students walking out of class in cities everywhere, including Kansas City, Missouri. The United States Youth Climate Strike organization recently announced that there will be another walkout on May 3rd. 
Olathe North is no stranger to student walkouts. On April 20th, 2018, students at Olathe North and surrounding high schools walked out of class to protest inaction on gun violence. The National Walkout and March For Our Lives organizations were created by students from Marjory Stoneman Douglas High School, who experienced a school shooting on February 14th, 2018. In a way, the current climate strikes are similar to the gun violence walkouts. Teenagers are making it clear that they're tired of their governments not placing value in their lives. 
Students at Olathe North have started to show enthusiasm for Thunberg's movement, and many are interested in joining the upcoming climate strike on May 3rd. Student Democrats President Lauren Ellenz is interested in the concept of a climate strike, but acknowledges that the planning process can take a while. "We look around the school and talk to different groups and try to engage interest. Then we set dates and look at ideas of what we're going to do. After we have a basic plan, we talk to administration and inform them of what we're doing," states Ellenz.
If Olathe North students were to participate in the strike, Student Democrats Vice President Airianna O'Donohue thinks that many of the planning strategies used for the walkout last year could be implemented again. "We could work with other Olathe schools so it's more of a coalition. I know some students at Olathe East that we could organize with, and I know that Lauren Ellenz knows people at other Olathe schools as well," O'Donohue explains.
It's unclear as of right now if interest will be high enough at Olathe North to carry out a climate strike. Even if no walkout occurs, Ellenz would like to have a way to inform students about climate change. "I think we could definitely try to set up an informational booth to educate people about climate change and actions that can be taken by individuals and by society as a whole to address the issue," Ellenz says.
Students who participate in these strikes are frustrated with political leaders who don't take their message seriously. Many politicians are quick to dismiss factual information regarding climate change, including in the United States. In a tweet sent out on November 21st, 2018, President Donald Trump wrote, "Brutal and Extended Cold Blast could shatter ALL RECORDS– Whatever happened to Global Warming?" 
Olathe North Geosciences teacher Staci Winsor believes that more people should be informed about climate change. "Even though we are seeing temperatures that are sub-zero and people are quick to say 'what about global warming?', that's not how it works. It's a global change, indicating that weather will become more extreme as our temperatures rise, as well as ocean temperatures," she says. 
The effects of climate change have been projected to be catastrophic, and scientists frequently warn the public about the consequences that climate change will hold. The United Nations Intergovernmental Panel on Climate Change issued a report in October of 2018, detailing the possible effects of climate change. They stated that if greenhouse gases are emitted at their current rate, the atmosphere will continue to warm by 2.7 degrees Fahrenheit. This rise in temperatures would in turn cause sea levels to rise, which would wash away coastline communities. These high temperatures would also lead to extreme drought, which would diminish the world's food supply. 
Thunberg believes she must take dramatic action, like walking out of school, to stand up for herself, and for future generations. In an op-ed for The Guardian, Thunberg wrote, "Some say I should be in school. But why should any young person be made to study for a future when no one is doing enough to save that future? What is the point in learning facts when the most important facts given by the finest scientists are ignored by our politicians?"
The idea of each climate strike is the same; it's meant to send a message to the government of the region, asking them to take action on climate change. If Olathe North held a walkout, Ellenz explained that students would be endorsing the platform of the U.S. Youth Climate Strike. "We would be in support of measures like the Green New Deal, declaring a national emergency on climate change, and climate education in schools," Ellenz says.
Compulsory comprehensive education in grades K-8 on climate change and its impacts is a main component of the U.S. Youth Climate Strike's platform, and many are supportive of that measure at Olathe North. Regarding this proposal, Winsor says, "I've never been an advocate for anything more." As a Geosciences teacher, she touches frequently on the topic in her own classes. "In the first three to four weeks of my hydrosphere class and lithosphere class we review about climate change, and its specific mechanisms," she says.
O'Donohue is also supportive of this proposal. "I think there is always more that we can learn." she says.
Some political figures have made a commitment to fighting against climate change, like New York Representative Alexandria Ocasio-Cortez. The Green New Deal is a resolution that was recently introduced by Representative Ocasio-Cortez. It outlines the steps that the U.S. should take to combat the effects of climate change, including achieving net-zero greenhouse gas emissions, investing in sustainable industry and infrastructure, and securing natural resources for future generations.
However, Democrats and Republicans have not been able to come to an agreement on the Green New Deal, as members of both political parties have deemed the resolution too extreme. The future of the Green New Deal and its proposals is uncertain, but it's clear that young people will continue to advocate for the measures outlined in the resolution, even with the opposition they face.
Ellenz is frustrated with the government's inaction. "The government pushes these issues to the back of their agenda, because there's more interest in things like oil profits, and making money, and preserving our current economic situation, rather than seeing that our current economic situation isn't sustainable," she says. She adds, "We need to be taking action on climate issues."
In December of 2018, Thunberg gave a speech in front of climate change negotiators at a United Nations climate summit in Poland. She reprimanded the leaders sitting in front of her for their inaction, saying, "Until you start focusing on what needs to be done rather than what is politically possible, there is no hope. We cannot solve a crisis without treating it as a crisis." 
She finished her speech with a warning for the world leaders in the room, saying, "We have come here to let you know that change is coming, whether you like it or not. The real power belongs to the people."
This sentiment has been echoed by the thousands of students who have walked out of school for climate change action so far. It appears that this movement is only growing, and if history is any indicator, Olathe North students may be standing up for themselves and for the planet in the near future. 
Student Perspective
Freshman, Breanna Elman:
"I recycle a lot. I make sure I'm educated on what can be recycled. For example, at soccer, there are a lot of water bottles that are used, especially at team dinners. I take those water bottles home and recycle them myself. Also, I try promote the awareness of climate change, and the issues that are happening around the world because of climate change."
Sophomore, Demetrius Bush:
"I always try to go out of my way to pick up extra trash, and recycle whenever I can. I also try to use more environmentally-friendly products– I use metal instead of plastic straws. I'm also in Geosciences, and we recycle occasionally. We also clean up around the school and maintain the rain garden outside."
Junior, Natalie Wagoner:
"I felt bad after eating meat. After reading Fast Food Nation, I didn't want to support the meatpacking industry. I stopped eating meat forenvironmental reasons as well. I just figured that the amount of land used to feed animals, or to make feed for animals, could be used for growing different crops or plant products for populations that are deprived of food. I just think it's not using the resources we have correctly, and I think that our priorities could be directed elsewhere."
Senior, Anna Diehm:
"I bought two reusable straws, and I've been using them since January 1st. You don't realize how many times you reach for a straw, until you don't have that option anymore. If I'm handed a drink by someone at a restaurant, and they ask me if I would like a straw, I just tell them I don't need one. You'd be surprised by the amount of people who say 'Oh, I'm doing that too!' I've read a lot of articles this year about the amount of plastic that can get caught in sea animals and stay in the ocean. It takes a long time for it to biodegrade and it kills a lot of animals. It's so important to me because I'm planning on going to K-State to study animal science and conservation."
About the Contributors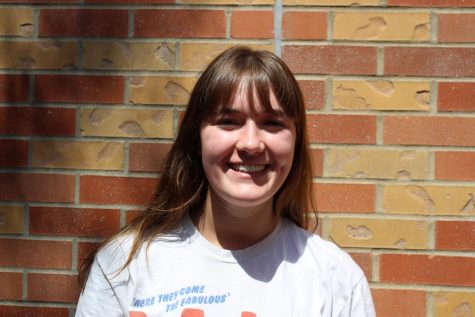 Abby Shepherd, Lead Editor
Number of years on the paper: 2

Grade Level: 12th grade, Senior

Favorite part of Newspaper: "I like interviewing and being able to meet new people"

Favorite...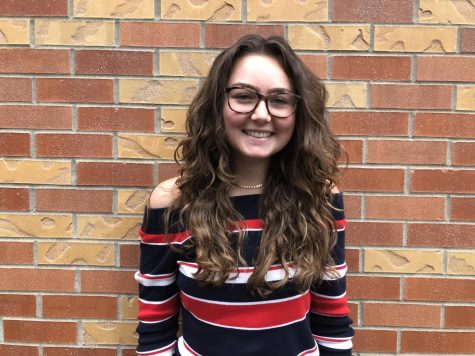 Abigail Miles, Co-Editor in Chief
Number of years on the paper: This is Abigail's fourth year on the paper

Grade Level: 12th grade, Senior

Favorite part of Newspaper: "Getting to...