Olathe School District's/Olathe North's Policy on Recycling
With Earth Day just around the corner, people tend to focus more on being environmentally friendly. "Reduce, reuse and recycle" is a phrase that's repeated often around this time of the year. Olathe is known for being a "green" city, and the Olathe School District has made recent strides forward in being more environmentally conscious. Recycling remains an area of concern for many in Olathe schools, but district administration as well as Olathe North administration have recently made attempts to revitalize the district's approach to recycling. 
The Green Steering Committee is a group comprised of various district workers. Members regularly meet and suggest ways the district can be more environmentally conscious. It existed for a number of years, then declined in activity, but was restarted in the Fall of 2017. The committee includes former Olathe North Geosciences instructor, Angela Epps. Epps is currently the school district's 21st Century Academies Coordinator, but her past with the Geosciences Academy allows her to be an effective member of the Green Steering Committee.
Olathe schools had green and yellow recycling containers outside of their buildings in the past. They were used as a fundraiser for the schools, as the company who owned the containers bought the recycling from each school. Last year, the outside company began charging for it instead. The school district decided to consolidate their recycling with the city, and outside each school is a blue container that is emptied once every two weeks by city employees. "These City of Olathe recycling dumpsters would be for mixed recycling (plastic, paper, cardboard and aluminum), same as your house recycling container," says Epps. 
Despite each school having a large recycling container, and almost every classroom having a recycling bin, many students are not educated on how to recycle correctly, and end up throwing away everything in the trash. This lack of knowledge can actually cost the district more, as they have to pay the city for picking up trash, not recycling.
Chris Gralapp, Manager of Planning and Energy in the Olathe School District, is also a member of the Green Steering Committee. He acknowledges this misunderstanding that many students have about recycling, but explains a solution that his committee has devised. "There's a company called Recycle Across America, and they have agreed to donate, along with a sponsor from U.S. Bank, free recycling labels. We can put those on all 5,000 of our recycling containers, and they show what can or cannot be recycled," he says. 
Power 50, an extended lunch-time that was added to every Olathe high school this year, has added to the waste problem. In the past, every student was required to eat lunch in the cafeteria. That made recycling more streamlined, as students could stack their trays and empty their milk cartons all at one place and time. Now, students are spread throughout the building with no way to strictly enforce recycling. 
Last year, when Power 50 first began, recycling bins were spread around the school for students to dump their trash after lunch. However, students used these bins incorrectly. "Food contamination in the recycling bins is a huge problem.  North doesn't have the big bins in the halls anymore because students would put recycling with food in them and it attracted fruit flies. Paper contaminated with food can't be recycled," says Epps. She adds, "If we can get the BIG 3 recycled correctly that would be a huge success: plastic bottles (empty with the lids on), paper/cardboard (no food contamination), and aluminum/tin cans (little to no food residue)."
Principal Jason Herman wants to change the inefficient system of the past. "One of the big things I want to do is have recycling stations and trash receptacles around the school, along with share tables, instead of me carrying the share tray around. I want a table that has a fruit bucket on it, a recycling bin, a trash can, and then I want students to stack trays there," he says. He would like to have implemented this system by next year, and believes it would cut down on food and trash waste.
Herman states that he will make informational videos for students to watch next year so the entire school is on the same page when it comes to the new share tables. Several students plan to help him operate this new system next year. "I've talked to Eagle Flight Crew, and they were going to go around with me after lunch to collect the extra food and put it in the share fridge in the commons," he says. "I think if the whole school set aside their extra food instead of throwing it away, then that share fridge would hopefully not be big enough."
Herman would also like to transition Olathe North from styrofoam to cardboard lunch trays. "I know that Olathe South has cardboard– it was several years ago, but they pressed for it and got it. I've sent a request to the district, but the transition could be expensive," he says.
Despite using styrofoam trays, Olathe West came up with a way to reuse them. "They have a machine called a Styrogenie that can melt down the Styrofoam lunch trays," says Epps. Olathe West pays to send these melted down blocks to a company that reuses the styrofoam.
Herman has been trying to get Olathe North its own Styrogenie, but has another solution if the machine would cost too much. "We have had some conversations about taking our styrofoam and delivering it to Olathe West," he says. However, he adds that this could also be costly.
The Green Steering Committee would like to phase out styrofoam trays completely, but Epps acknowledges that this would be expensive to do for the entire district. Due to this expense, the committee has looked at other areas where waste can be reduced. "The Green Steering team has a proposal for district wide recycling, but we have to wait to get approval. It looks at reducing our trash that we pay to have removed by increasing our recycling that is free to be removed," says Epps.
With this new proposal to make the district even more environmentally friendly, Olathe schools seem to be moving in a positive direction. However, administration can't complete this task alone. According to Epps, the only way recycling can be beneficial is if it's done correctly. "Students at the high schools need to hold each other accountable for recycling appropriately," she says.
If you have any suggestions for Principal Herman on how Olathe North could be more environmentally friendly, email your ideas to [email protected]
About the Writer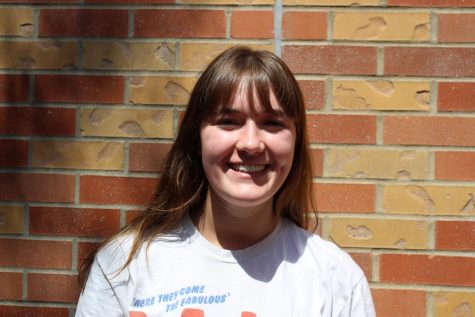 Abby Shepherd, Lead Editor
Number of years on the paper: 2

Grade Level: 12th grade, Senior

Favorite part of Newspaper: "I like interviewing and being able to meet new people"

Favorite...