Lunch Not Served
As incidents of "lunch shaming" pop up across the country, The Chronicle takes a look at Olathe North's school lunch policy.
It's a common story in the news: a generous donor pays off an entire school district's school lunch debt. While this is often depicted as a heartwarming story, it's also a depressing reflection of poverty in the United States, and the inability of some families to pay for their children's meals. It's also common to hear of students who don't have enough lunch money on their account, and their lunch is subsequently thrown away. Recently, a high school in Minnesota faced backlash when they threw out over 40 students' lunches, as they all had a debt of $15 or more. This situation is just one of many "lunch shaming" incidents across the country, where students have their lunches thrown away in front of their peers if they can't afford to pay, receiving either a cold lunch or nothing as a substitute. Olathe Public Schools has a different approach to this issue, one aimed to curb the amount of students with school lunch debt.
In Olathe elementary and middle schools, if students have a zero balance, they are allowed to have up to three charges on their account. If they go past this, students and parents will be notified to pay off the balance. In high school, no charges are allowed, and students can only have a debt of one dollar on their account.
This is a big change from elementary and middle to high school, and Scott Kingery, the Food Services Director for Olathe Public Schools, explained that this practice is necessary to sustain the Food Services Division. "Food Services operates much like a not-for-profit business would. Therefore, controlling costs is an important part of a successful business enterprise. Allowing meal charges increases these costs," Kingery said. "The district's meal charge policy tightens as the age and personal responsibility increases in the grade levels."
If high school students try to buy a lunch but have no money on their account, the cafeteria follows a standard procedure. "The cashier offers to hold their food at the cashier station while the student gets money from their backpack, friend, asks their parents to put money on the account via a phone app, etc.," Kingery said.
Occasionally students find the money and return to claim their lunch, but sometimes they never come back. The cashier then throws away the unclaimed food. "That's never done in front of the kids," Olathe North Cafe Manager Jennifer Wetterstrom said. "If it's stuff that is [packaged] we can put that back so it's not being wasted."
Some feel that throwing away the hot lunches and not giving them to the students who can't afford it is a waste. "We agree that it's a horrible waste, but to allow customers to eat without paying is a practice that would quickly become out of hand with uncontrolled costs," Kingery said.
However, Wetterstrom added that this wastefulness doesn't occur as frequently at Olathe North as one might believe. "Anywhere from five to ten kids don't have the funds and are asked to find a way to pay for it in a week," she said. She acknowledges that at the beginning of the school year it is more common to have students who don't have enough money on their account to buy lunch. "Principal Herman gives them that first week and a half of school to cover it and then after that they have to make sure they have money on their account."
Wetterstrom also explained that the lunch debt situation at Olathe North has improved drastically over the last few years. "If you were to compare negative balances now to when I became manager here four years ago, it's like 4 or 5 pages shorter," she said. "We held to 'not let everybody just keep charging', and telling them 'you really need to have money'."
If students are concerned about being able to pay for their lunches, Wetterstrom explained that the counselors can help in that situation. Families can apply for Free and Reduced Lunches, or if they are unable to qualify there are other resources available. "Every school in the district has a Families in Need account that is used at the discretion of the school counselors and administration, like if they know that there's a kid who really needs it and they're trying to get that [Free and Reduced Lunch] application processed but their parents are too proud to admit they need help. With that authorization from them we can use it," she said. "Some seniors, if they have a balance left they will donate it to the families in need, and that's just a growing account that is used from time to time."
Some students reflected on Olathe North's school lunch policy. Senior Miounnia Charles is a new student at Olathe North. "I feel that free or reduced lunch would be the best option for schools because not everyone is wealthy," she said. "My first week or two of school I couldn't eat lunch or breakfast because I didn't have money on my account and I had to put food back because of it."
Sophomore Elizabeth Barrientos has another perspective. She qualifies for reduced lunches, and despite this, still faces uncertainty sometimes while going through the lunch line. "I still stress about not having enough money one day and then not getting lunch because I don't have money," she said.
About the Writer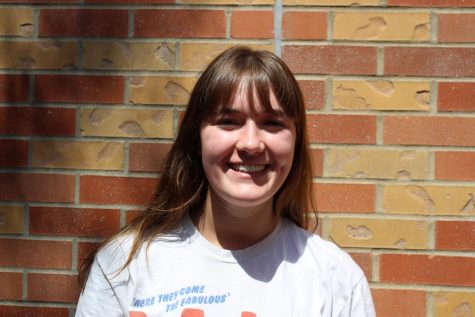 Abby Shepherd, Lead Editor
Number of years on the paper: 2

Grade Level: 12th grade, Senior

Favorite part of Newspaper: "I like interviewing and being able to meet new people"

Favorite...