Voting Values
When one thinks about elections, images of political ads on television, yard signs, and pamphlets from candidates appear. The older generation, usually those belonging to the 60+ age group, is largely associated with these images, as they are often the ones volunteering for candidates, and helping out from behind the scenes. As many teenagers cannot legally vote due to the age requirement of 18, it could be assumed that many of them feel indifferent towards politics. However, many Olathe North students are contradicting this expectation by heavily involving themselves in preparations for the 2018 midterm elections.
Many Olathe North students have made it their priority to be engaged in the different facets of politics no matter their beliefs, previous experiences in politics, or age. Students involved in the Distinguished Scholars Political Science program or the student run political clubs such as Student Republicans and Student Democrats strive to be involved in the processes of politics, whether it be local, state, or national. Both the Student Republicans and Democrats have a history of endorsing and working for certain candidates, and that tradition continues today. Students are usually informed about campaign volunteering opportunities at Student Republicans or Student Democrats meetings. The president of the club communicates with local candidates about possible times to volunteer, then relay these opportunities with their club members. The candidate Student Democrats have campaigned for the most this year has been State Representative Cindy Holscher, who many students have canvassed and phone banked for. As there is no Student Republicans club this year, no Republican candidate was endorsed.
Knocking on doors, stuffing envelopes, and making calls have all become part of daily routine for students like senior, Lauren Ellenz. As the president of Student Democrats, Ellenz works weekly supporting Holscher's re-election campaign. Ellenz replied, "I've helped with setting up yard signs and registering people to vote," when asked what other steps she has taken to participate in the political process besides canvassing.
For the upcoming midterm elections, Holscher has also been helped out by sophomore Wade Boohar, who regularly finds time to canvass. Boohar describes the process of canvassing, which candidates often implement to reach possible voters. "When we canvass, we meet up at a location in the district and then walk house to house. We ask people if they are registered to vote, who are they voting for, and what issues matter to them," he explains.
Former Olathe North student Catie Wiltanger found a job during the summer as an intern for Brent Welder, a candidate who ran for Congress in District 3, which includes Overland Park, Olathe, and Gardner. She found it to be a rewarding experience, and says her most valuable lesson came from talking to people on both sides of the political aisle. However, her interest in politics began much earlier.
"In high school I was really interested in politics, and at one of the only Student Democrats meetings I went to, Brett Parker, a State Representative from District 29, which includes part of Overland Park, came and spoke. I stayed a little longer and talked to him; he had just started his first term and seemed like a really cool guy. I contacted him later and asked if I could get involved at all, and he said I could shadow him, so I shadowed him over Spring Break of my senior year."
Senior Rishab Bhat has also participated in local campaigns in the past, most recently with Angela Schweller, who is currently running for a state representative position in District 14, which includes part of Olathe.
Bhat had always held an interest in politics, and he adds, "Being able to have hands-on experience while working in a local campaign sounded interesting."
While working for Schweller, Bhat found himself participating in several aspects of the campaign.
"We phone banked, called up potential voters and informed them about candidates, canvassed, and also did public speaking events."
The large presence of politically engaged youth at Olathe North is not a common sight elsewhere, as many young people are apathetic when it comes to politics. This can especially relate to events like midterm elections, which can appear "unimportant", as the midterms don't decide well-known elected officials such as the president. When questioned about this predicament, junior Anish Srivastava replied, "I think it's just the disconnect now, because we've just come to believe that the older people understand better and young people aren't as smart or intelligent, so they shouldn't vote on issues they don't understand." Ellenz agrees with this point, claiming, "We see that continually the political system ignores it, when young people do speak up." She also brings up another reason why teenagers aren't as politically active, contributing it to time commitments that young people have, such as extracurriculars.
Wiltanger believes the apathy some young people have towards politics is contributed by the politicians themselves. "I think we need to be represented by younger people, because not only would that make younger people more willing to vote, but it's time that we vote out some of the people who have been there for 30 years."
Although he is too young to vote, Boohar still believes being politically active, no matter your age, is important. "Politics affects every part of our life and so by advocating for those who I think can make our government function better, I am doing my duty as a citizen."
It's often argued that politicians are "out of touch" and aren't doing enough to reach out to the younger generation, especially to those who can legally vote.
Wiltanger discussed one day she was at working at her internship and was approached by Welder.
"Brent asked if I could look at a certain candidate's Twitter, who was from District 30, so we could get ideas on how to reach more people through social media."
However, Srivastava doesn't think purposely reaching out to younger voters through social media should be the politicians' responsibility.
He claims, "If the younger generations start coming out and voting more often, they themselves (the politicians) should only then purposely go out and reach the younger generations."
He makes a point here; according to the United States Election Project, it has been shown repeatedly over the last few national elections that the younger generation (18-29) is often the smallest demographic that shows up on Election Day. Ellenz makes it her priority to change this trend, expressing, "I guess I'm trying to change that by just trying to get people excited about politics, mostly at the local level, because that's where we can actually make change."
Bhat agrees that voting in all types of elections is important, adding, "Local elections are determined by a handful of voters, so one person can make a big impact."
The midterm elections are coming up on November 6th, but few people are actually knowledgeable about who will be on the ballot. In Kansas, the election will decide the next governor, various state representatives, and national representatives. October is a busy month for students who are helping out in various campaigns, and for them, letter stuffing and canvassing has become almost nonstop.
The abundance of politically active teenagers at Olathe North is only a small sample of the current trend across the country. Students are becoming politically active in cities everywhere, including the well known example of Parkland, Florida. After 17 students and teachers were killed in a school shooting in Parkland at Marjory Stoneman Douglas High School, various students who survived became political activists, specifically advocating against gun violence. During the summer of 2018, outspoken students from MSD traveled across the country, holding town halls where the main topic was gun violence. Many students have also endorsed or condemned certain politicians, depending on whether they believe these politicians are working for their best interests. The students of MSD now hold tremendous political influence as a result, showing what happens when young people stand up and act for their personal convictions.
Though not comparable in the amount of news coverage they receive, many students at Olathe North feel as passionately for politics as the students from MSD. This passion is reflected in the time they spend outside of school, putting work into various campaigns. These students know the power the midterm elections hold, and they refuse to sit idle as their future hangs in the balance.
About the Writer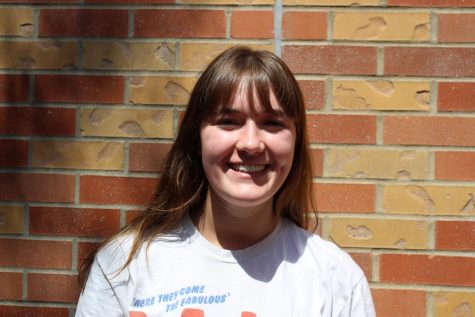 Abby Shepherd, Lead Editor
Number of years on the paper: 2

Grade Level: 12th grade, Senior

Favorite part of Newspaper: "I like interviewing and being able to meet new people"

Favorite...